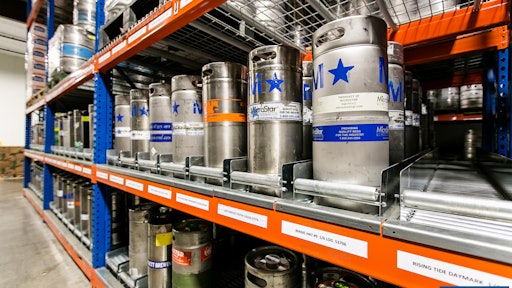 Investments in warehouse automation have remained fairly strong in recent years and the consensus is that more growth is on the horizon, according to executives in the sector. However, the food and beverage space comes with unique challenges and opportunities. What are they and how are warehouse operators, automation equipment manufacturers and integrators responding? This is what executives shared with Food Logistics …
Mark Diehl, business development manager, BEUMER Corporation (www.beumergroup.com)
Due to service level requirements increasing all the way to same-day delivery, the entire supply chain for food and beverage, from manufacturers to wholesalers to retailers, is leading to higher adoption levels of automation. Adding in the dilemma of dramatic shortage of labor, especially during holiday peaks, food and beverage companies are forced to increase their respective automation levels. Home delivery providers are taking on more less-than-full case picking in their operations, and service level and labor shortage issues are creating higher demand for unit sorters and multi-shuttle technologies, for example.
Automation provides a supremely reliable method to efficiently track and trace the product through the supply chain at high levels of accuracy. That is, the use of technology such as scanners, photo-eyes and divert confirmations allow the fulfillment process to continually track the product in each step of the process—from picking, to sortation, onto the truck, and in transit.
Paul Laman, vice president at DMW&H (www.dmwandh.com)
A regular and ongoing challenge for the food and beverage industry is storage and order fulfillment costs. With the proliferation of SKUs, the inventory becomes more granular, resulting in lower storage density. This puts a greater emphasis on the need to optimize the storage configurations. Tall and narrow aisle racking allows for better storage density, especially for the slower moving SKUs. Secondly, with the increasing diversity in case sizes and customer requirements for more precisely organized and loaded pallets, greater information and data is needed to create ideally configured mixed SKU pallet loads; however, to do so introduces additional challenges for the information systems and pickers, slowing them down. With the additional number of SKUs in the warehouse, the pickers need to travel even greater distances to build their order pallet; these increased distances degrade picker productivity. One of the solutions to solve these challenges is to utilize an automated system that incorporates mixed case palletizing. With the arrival of the latest in case gripper technologies, three or more cases can be moved per cycle; productivity increases, and these enhanced palletizing systems become much more justifiable.
John Sorensen, senior vice president and general manager, lifecycle support services, Intelligrated (www.intelligrated.com)
The food distribution landscape features familiar e-commerce and omnichannel fulfillment challenges, such as SKU proliferation and faster cycle times, which continue to push operations to implement automated systems for increased accuracy, reliability and speed. But this year, the industry is also tasked with accommodating new food safety regulations that affect the entire supply chain.
The demand for more interconnected, data-driven logistics processes and emphasis on tracking and tracing product offers new challenges, but also opportunities to maximize the efficiency of material handling systems. Automated systems within the four walls can actually work to set up other parts of the supply chain for success.
Challenge 1: Minimize unplanned downtime. Realizing an efficient supply chain for time-sensitive food operations requires reliable performance from each link. For warehouse automation, the key is to ensure automated equipment can handle the required SKUs at target throughput rates.
Challenge 2: Implement consistent standards. Implementing the latest technology to share equipment and maintenance data between sites can leverage single-site initiatives to benefit the entire distribution network. Data sharing drives efficiency improvements and establishes consistently high performance standards throughout the supply chain.
Cory Hypes, executive vice president, Power Automation Systems (www.powerautomationsystems.com)
The short-term opportunities will focus on maximizing existing infrastructure efficiency and preparing for ongoing challenges that arise from customer preference, regulatory requirements, labor costs, and sustainability initiatives. Through automation, companies can solve these challenges in a number of ways.
First, warehouse automation has the capability to increase storage capacity by 50 to 100 percent. This provides companies with options to reduce offsite storage and transportation costs. In addition, by reducing the amount of space required for storage, a company can increase their production or packaging capabilities within their existing facilities.
Second, warehouse automation can increase the throughput of a facility while minimizing labor costs with the use of robotics. Storage and retrieval systems, along with robotic picking systems, can support on-demand fulfillment and faster inventory turns.
Finally, inherent to any warehouse automation solution is better control and tracking. Any company can benefit from the use of WMS or WCS software systems that manage, monitor, and direct all inventories activities.
Tom O'Dette, director of engineering, Retrotech, Inc. (www.retrotech.com)
A main goal in warehouse automation is gaining efficiencies. Companies need to review their processes, identify workflow inefficiencies, safety concerns, and opportunities to improve with either modernization, expansion, or greenfield options. Self-evaluation is difficult because companies are engaged in multiple fast-moving, need-driven initiatives ranging from operations to market analysis. Their concern is often that automation systems restrict their ability to adapt on the fly. In fact, automation provides the flexibility to adapt quickly and seamlessly with minimal manual retraining.
Centralization of production and distribution centers is a trend that aims to increase efficiency and decrease supply chain costs. Upfront costs and logistics of that transition can be tough to navigate, but with sufficient planning and technical support, returns on investment can be substantial.
SKU proliferation can create production, storage, distribution, and financial challenges. We are working closely with our customers to perform complex data analyses to provide predictive analytics for system design, planning and reliability. Our customers are embracing SKU proliferation as an opportunity to grow business and to maintain efficiency.
Cultivating and maintaining a skilled workforce can be difficult. Improved automation services can bridge the gap between talent and task while also decreasing the amount of time spent training.
Brian C. Neuwirth, vice president, sales and marketing, UNEX Manufacturing (www.unex.com)
One of the biggest challenges is keeping up with the latest in buyer trends and technology and the shift to having an omnichannel supply chain. On the contrary, one of the biggest opportunities is engaging new buyers that are willing to embrace new distribution and sales channels with faster fulfillment.
John Clark, marketing manager, viastore (www.viastore.com)
The trend of online ordering of food continues to grow. For food producers used to working with stores, selling to the end-consumer via e-commerce is different for them as online ordering tends to be much more case- and each-picking orientated. It also comes with greatly increased packaging requirements (consider the ramifications of shipping temperature-controlled items cross country without a refrigerated truck). This "larger volume of smaller orders" requirement may cause some to look into outsourcing, which could be an opportunity for food-related 3PLs to ramp down from pallet and case picking to case and each picking, or for e-commerce fulfillment companies used to each picking to enter the temperature-controlled distribution world.
There are also start-up companies offering not just completed meals, but the entire meal package (all the ingredients) so that the customer can prepare the meal at home. Order fulfillment for this will become more difficult as that business model ramps up, and those companies might look to the 3PLs for help.
When it comes to SKU proliferation, faster inventory turns, and addressing the requirements of the Food Safety Modernization Act (FSMA), it requires more than warehouse automation. Specifically, it is the combination of automation with the software that makes the difference. Automation can speed up inventory turns and increase accuracy as it reduces the amount of product touches. The less you have people in the facility handling product, the less likelihood there is for error and also damage. The software combined with the automation allows for the proper tracking functionality for FSMA, and when a recall occurs, the software allows for a faster and more pinpointed response, which ultimately saves money.
Staci Cretu, marketing communications manager, Westfalia Technologies, Inc. (www.westfaliausa.com)
With the FDA's stringent standards and regulations, food and beverage manufacturers and distributors are facing challenges associated with mitigating recalls and their detrimental effects. We are seeing an increased emphasis on automation and associated technology in an effort to reduce, if not prevent, recalls through sophisticated track-and-trace capabilities.
Over the last several years, the industry has become more aware of the abilities and advantages of automated storage and retrieval systems (AS/RS). As AS/RS becomes more widespread, it brings the natural progression of applying a warehouse execution system (WES). A WES combines the functionality of a warehouse control system (WCS) and a warehouse management system (WMS) to help direct, control and optimize internal material flow and order picking. As a result, warehouses are able to better meet growing demand, raise productivity, lower risks, boost throughput, increase inventory accuracy and enhance customer satisfaction. These systems provide warehouses with a new level of automated data visibility.
When combined, an AS/RS and WES offer a business process maturity that many companies seek. Across the food and beverage industry, we continue to see increased demand for software solutions, like a WES, that control the entire warehouse process to reduce the complexity of using several different "function-specific" applications.
Karl Hoegen, CEO of WITRON North America (www.witron.com)
Challenges: The traditional paradigms of distribution logistics are replaced by new developments such as Big Data, Predictive Analytics or by mostly self-guiding systems.
Opportunities: Horizontal and vertical data transparency create the basis to make the right decisions in the short- and long-run. This leads to faster reactions towards requirements and demands and new capabilities to predict potential developments in time. With more than 2,000 realized projects, WITRON knows the horizontal process chain in the retail industry down to every little detail. In our automated warehouses, data is collected and processed from ERP systems, WMS, WCS, PLC, mechanical compartments, steering and powering, down to sensors and actuators.
In a highly dynamic WITRON distribution center all SKUs, areas and elements are connected through logistics and information technology from receiving to shipping. This enables a completely automated handling of SKUs, largely without any human interaction. Consequently a "fluid" supply chain is created. That means that if basic parameters or data are changing, processes and functionalities automatically change in time as well.
Clint Lasher, executive vice president, solution sales, Wynright Corporation (www.wynright.com)
Automation gets strategic: Among the greatest challenges facing the food and beverage industry is determining exactly which logistics processes to automate. Major shifts in buyer preferences, online buying, and increased M&A activity are adding complexity that requires operating capability well beyond traditional manual methods. And, there is no shortage of innovative technology available to meet that need all across the value chain, including pallet optimization, robotics and automated truck loading to name just a few.
But whether the required automation can pay for itself within the three- to five-year periods that many food and beverage companies need for profitability is another question. Rather than investing upwards of $25 million in automating everything in the warehouse and waiting 10 years for payback, most companies are implementing hybrid approaches, prioritizing labor intensive automation segments such as palletizing now, and rolling the return into additional segments later on.
As market dynamics continue to present new logistics challenges, decisions about what to automate can become as strategic as decisions on pricing, delivery time, quality or other competitive fronts. For automation vendors, the challenge is to work more closely with logistics teams to understand their business objectives and assist them in finding the right automation solutions mix that will address them.
Automation Will Play Central Role In Food Processing Plants Of The Future
In a white paper, "Recipe for Change: The Flexible Food Processing Plant of the Future," commissioned by the Industrial Asset Management Council (IAMC) and the Society of Industrial and Office Realtors (SIOR), a team of researchers explored how new approaches, including design innovations, emerging technologies, policy prescriptions, and changes in mindset could increase flexibility, adaptability and reuse for future food processing plants.
It is an important effort considering today's new food processing plants have a lifecycle of 20 to 30 years on average, due to fast-changing business cycles, along with new and quickly evolving consumer preferences and technology advancements. This is dramatically shorter than food processing plants of previous generations, many of which operated for decades before becoming obsolete.
According to the white paper, automation is integral to the design and operation of the food processing plants of the future.
"The prototype facility features fully automated meat processing, powered by next generation robotic arms with guided systems for precision cuts every time, humanoid robots with artificial intelligence, and driverless vehicles for warehousing and loading. The use of automation embedded in the skid modules, as well as the fleet of humanoid robots and vehicles, results in a safer work environment and a more efficient and productive facility, able to run 24 hours, seven days a week, if needed," the paper states.
Pork and lamb processors are among those who are leading the adoption of automation.
"With the introduction of technologies such as x-ray, ultrasound and enhanced vision systems to identify optimal spots for cutting, automation solutions are becoming more sophisticated, capable of handling more diverse carcass shapes," notes the paper.
Meanwhile, "The ability to reduce waste and improve yield through more precise carcass slicing could yield hundreds of thousands of dollars in savings—a major win for companies in a notoriously tight margin business," adds John Patelski, executive vice president, Ghafari Associates LLC.
Furthermore, evolving technology and increased use of new equipment will help drive prices down while fueling the aftermarket for used machinery, which will yield improved affordability, even for smaller manufacturers.
More intelligent robots will make their way into the industrial sector, explain the white paper's authors: "The use of robots also will gain traction, as humanoid robots with artificial intelligence, cognitive language and fine motor skills—currently in the developmental phase—are commercialized and made available for industrial settings."
Yiannis Aloimonos, a professor of computer science at the University of Maryland, notes that, "The commercialization of humanoid robots that can react and respond to verbal commands requires a synergy between engineering and computer science that is probably about four generations of technological improvements away." He adds that, "While that sounds like a long time, generational cycles in technology are exceedingly short, so four generations is only about 15 years from now."
Food safety in the food processing plants of the future will also be greatly improved.
"Smart technologies such as embedded sensors, molecular diagnostics, and biometric monitors can detect pathogens, reduce the risk of contamination, and help ensure quality control and food safety. These tools, networked to cloud applications, also reduce the need for human inspectors and manual form completion, making it easier and less expensive to comply with ever more stringent food safety regulations—even if such regulations change. Already, the cost of such technology is on the decrease, making it a more affordable option for food processors," the white paper concludes.