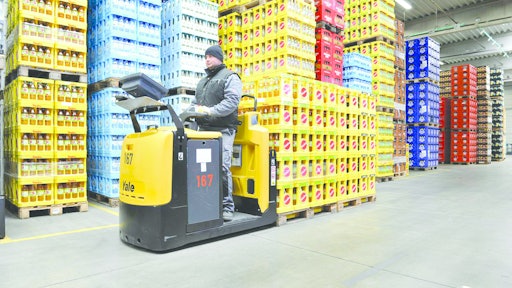 Figures from the Industrial Truck Association's "US Factory Shipments Through 2012" report show steady growth for electric lift truck orders and declining purchases of lift trucks powered by internal combustion (IC) engines.
These changes in purchasing patterns as well as increasing government regulations on emission controls are spurring lift truck manufacturers to improve and develop new technologies such as propane, hydrogen, hybrid fuel and natural gas. Companies such as Crown, Hyster, Jungheinrich, Raymond, Toyota and Yale are offering products and equipment that are environmentally friendly, improve warehouse productivity, and represent a good value for the investment.
Crown
Andy Smith, senior marketing manager with Crown, explains the company's use of regenerative technology for their lift trucks. "Both Crown TSP Series and Crown RM Series feature regenerative braking and lowering systems that capture lost energy and return it to the battery. Crown offers a larger battery option, which together with their regenerative technology allows for an increase in time efficiency."
One of Crown's newest battery-powered lift trucks is the Crown RM 6000. This lift truck is the industry's first narrow aisle reach truck with a MonoLift mast, which gives the operator improved visibility and performance. According to Smith, it is also the industry's first pantograph reach truck that can reach 505 inches and deliver up to 1,000 pounds more capacity at height.
Admittedly, one limitation to battery powered technology, says Smith, is that it requires strict maintenance, including watering to retain a full charge. "Advances in some types of batteries remove the need to vigilantly check water and electrolyte levels, but regular maintenance is key to ensuring battery-powered fleets operate at optimum efficiency," he says.
Crown also offers customers its Encore remanufacturing program. The program recycles up to 99 percent of used forklift components.
Hyster
Hyster is also focused on sustainability, offering zero-emission lift truck models along with traditional internal combustion engine models. All of Hyster's lift trucks meet or exceed the California Air Resources Board (CARB) requirements.
Customers can choose models whose power sources range from conventional fast-charge lead acid batteries, to hydrogen fuel cells, liquid propane (LP), Compressed Natural Gas (CNG) or diesel. Hyster is also exploring the future use of hydrogen-powered fuel cell trucks that may one day replace or work alongside electric ones.
A new product in Hyster's electric line-up is the LO2.5 center rider lift truck. This truck "eases second level order picking through a raising operator platform and the unit's adjustable electronic power steering, automatic speed reduction in cornering and its suspended platform with an operator sensing floor mat," states a press release.
Hyster also offers an Environmental Package that equips lift trucks to work outside of a plant. Specifically, "The Environmental Package prepares electric trucks to handle notoriously heavy-duty industries, such as lumber, dock yards, masonry, food preparation and handling heavy manufacturing and recycling."
Jungheinrich
Jungheinrich realizes that different power sources work more efficiently depending on the application required. According to Perry Ardito, general manager of Jungheinrigh Warehouse Products Group at MCFA, "Each source offers a varying degree of performance and reliability."
The company has worked to reduce CO2 emissions across their range of lift trucks. For example, with their line of Electric and Diesel/LPG forklifts they have reduced CO2 emissions by over 25 percent.
In addition, Jungheinrich developed and introduced the "first lithium-ion battery for their electric pallet trucks," says Ardito, adding that the battery is smaller than "conventional lead acid batteries," which makes it easier to handle while also shortening the overall length of the truck and improving maneuverability. This battery is also maintenance-free, which reduces labor time and costs.
Jungheinrich was the first to introduce the electric forklift over 60 years ago, while in 1996 they introduced proprietary AC technology trucks. AC technology trucks are more reliable, require fewer battery changes, have fewer greenhouse gas emissions and are generally considered "cleaner" lift trucks, which is especially desirable in food/bev environments.
Limitations do exist with some of the higher capacity units at 15,000 pounds or more, however. At this level, the power of a diesel or gas unit may be required.
Raymond
According to Jim Hess, national accounts manager for the Raymond Corporation, the company turned to electric lift trucks for their space saving benefits, especially when compared to gas- or propane-powered trucks. Electric powered trucks allowed Raymond to reduce required aisle space from 12 to 7 feet. Electric powered trucks can also travel greater distances than traditional gas-powered units.
The Raymond 8000 Series pallet trucks are one of their newest electric powered lift trucks on the market. They are designed for strength and durability, and the "undercarriage components [are] designed for reduced wear and maintainability," according to a press release.
In addition, the control system has been designed to handle "wet and cold" environments, which is an attractive feature for many food/bev facilities. The grab bar and electronic controls are "sealed and waterproofed for wet environments and wash-downs, and a one-piece rubber cover replaces individual plastic buttons for a longer component life," as well. The one limitation though, according to Hess, is that the sophisticated electronics make the truck specific to indoor operations only and "not recommended" for use in outdoor climates.
Meanwhile, Raymond has been testing hydrogen fuel cells in lift trucks for the past six years. Among the features they've developed, according to Hess, is a "fuel-dispensing system that allows for a two-minute recharge."
Toyota
Toyota offers a range of environmentally friendly lift trucks from that are UL-listed, EPA and California Air Resource Board certified, and run on compressed natural gas and AC power.
The food and beverage industry, in particular, represents a key customer group for electric lift trucks because of "growing environmental concerns, fuel prices and regulations for lower emission equipment," points out Kenro Okamoto, product support specialist for Toyota Material Handling U.S.A.
Okamoto discussed Toyota Material Handling's switch from DC to AC motors. "Prior to this change, 60 percent of lift trucks were gas-powered, and 40 percent were electric. Today, 65 percent are electric and 35 percent are gas-powered."
One of Toyota's new features is the Compact Battery Compartment Option, which is available on the 8-Series 4-Wheel AC electric 4,000 and 5,000 pound models. This option is suited to customers that have narrow aisles and those that demand shorter, more compact lift trucks to increase their productivity.
According to Okamoto, stricter emissions standards are prompting more food/bev companies to convert their lift truck fleets from internal combustion powered engines to battery-powered trucks. Nonetheless, Toyota "offers both types of products to address the customer's need and preferences."
While electric-powered trucks are decidedly more sustainable, one limitation is that they travel slightly slower than their internal combustion engine counterparts. But, continued improvements in AC technology and high voltage batteries are helping bridge the performance gap.
Yale
Zero emission lift trucks play a key role in the sustainability offerings from Yale Materials Handling, and the company is one of the largest volume producers of zero emissions lift trucks in the North American market. In addition, Yale's lift trucks use an innovative transmission design that reduces brake and tire wear in internal combustion engine
trucks. Yale also reduces energy consumption through weight reduction and drive train efficiency.
Recently, Yale introduced the MO25 low level order picker to its line of electric trucks. The model features a range of ergonomic and productivity features, including fully adjustable electronic power steering that reduces steer effort by 90 percent.
The company has also been experimenting with fuel cell technology and was one of the first manufacturers to introduce hydrogen powered fuel cell trucks. During ProMat 2013 in January, Yale launched its factory-backed Certified Remanufactured Program. The factory-backed program comes with a one year, 2,000-hour warranty.