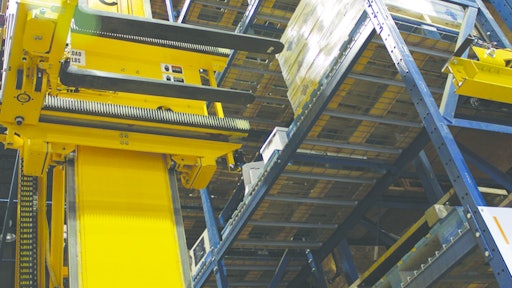 Automated storage and retrieval systems (AS/RS) can help improve food and beverage warehousing companies by quickly moving high volumes of products and increasing visibility in the warehouse. The added benefit of energy efficiency, more strategic use of labor, and improved supply chain velocity are making the case for AS/RS even more compelling.
Streamlining operations
Industry experts have noticed a high turnover rate for employees, particularly in freezer applications. "People don't want to work in frozen environments," says Bill Leber, business development, warehouse & distribution solutions, of Swisslog, headquartered in Newport News, Virginia. "They tend to be less accurate in frozen environments." Warehouse employees are also less likely to stay inside of a freezer environment in comparison to a regular warehouse environment due to employees needing to take periodic breaks in order to warm up.
The concept of creating a blended warehouse with manual labor and AS/RS is also gaining traction, especially in the U.S. A blended approach can help food and beverage companies address issues that may be occurring in the warehouse while decreasing the initial cost of the automation equipment.
At the same time, environmental initiatives for most companies are becoming more important as a way to mitigate energy consumption and trim costs.
"Automated systems are designed to streamline operational flow to optimize product movement in the warehouse," says Pete Hartman, president of Victor, New York-based Retrotech. "By reducing unnecessary product movement, it reduces the amount of energy used to move that product."
Despite the upfront investment, AS/RS can generate various benefits for a range of food and beverage companies.
Easy to integrate
Automated storage and retrieval systems have become more dependable and better integrated with warehouse management systems and warehouse control systems in recent years. They are also becoming more adaptable in traditional warehouses. And, AS/RS provides an immediate solution for food and beverage companies and warehouse operators who are looking to free up additional floor space.
"Using AS/RS saves a tremendous amount of floor space in a building," notes Sean O'Farrell, market development director of Grand Rapids, Michigan-based Dematic Corporation. "Accuracy increases as well because once AS/RS takes a load away they will be assigned a position within the storage racks and they'll retrieve it without any errors, as long as it was labeled properly."
Another advantage of utilizing AS/RS is to gain real time visibility into warehouse inventory—knowing what product is available and where it's located. Increased visibility makes it possible to reduce the amount of days-on-hand (DOH) inventory, which helps keep perishables from spoiling, in turn keeping costs in check and customers happy.
"If [managers] can turn the inventory quicker, they can reduce the days-on-hand [and] extend the shelf life of the product," says O'Farrell.
Choosing the right equipment
There are various systems in the marketplace that can assist in creating a more efficient environment in the warehouse, but which is right for your company? If creating a greener warehouse environment while simultaneously moving food and beverage products in a timely manner is the goal, then York, Pennsylvania-based Westfalia has an AS/RS that deserves a look.
Westfalia's High-Density AS/RS, which has the ability to store 2 to 12 pallets (or containers) deep, has a low impact on the environment. The system can help save a food or beverage company up to 30 percent in energy costs associated with refrigerated warehouses. Their equipment also utilizes a first in/first out (FIFO) method, which is extremely beneficial for perishable products.
Earlier this year, Germantown, Wisconsin-based Gehl Foods, Inc. expanded their order processing procedures with the use of Westfalia's High-Density AS/RS, while remaining in their existing 22' high warehouse.
Gehl Foods not only nearly tripled their storage space, but also had considerable operational savings.
In addition, Charlotte, North Carolina-based Schaefer Systems International also offers various types of AS/RS equipment. Their specially-designed equipment can function in extreme conditions, such as deep-freezer applications as cold as minus 28 degrees Fahrenheit (minus 33.33 degrees Celsius).
TGW Systems' mini-load AS/RS twin-mast stacker crane, Stratus, is one of TGW's fastest automated storage and retrieval systems, with a max travel speed of 13.1 ft/s (4 m/s) and a max lifting speed of 6.6 ft/s (2 m/s).
"We have consistently pushed the performance envelope of the industry from a throughput perspective," says Tom Swovick, integrated systems sales manager, TGW Systems, Spring Lake, Michigan. "We achieve this very high performance as a result of our rigorous design and precise manufacturing methodologies."
Dematic's Multishuttle can handle many different carton sizes, which can be placed directly onto the rack or the shelf itself. According to Dematic's O'Farrell, this technology is much more flexible and faster in comparison to mini-load AS/RS technology and can also help sequence and sort the loads.
Swisslog's Vectura AS/RS is customizable to a number of pallet configurations, such as single, double, triple or multi-deep stacking applications with a max travel speed of 13 ft/s (4 m/s) and a max lifting speed of 5 ft/s (1.5 m/s). The Vectura can also function efficiently in deep-freezer applications down to minus 22 degrees Fahrenheit (minus 30 degrees Celsius).
Lakeland, Florida-based Publix Super Market has plans to implement Swisslog's AS/RS equipment at their distribution center.
"This investment is consistent with our continuing strategy of improving systems and efficiencies that will ultimately reinforce the premier service our customers have grown to know and expect from us," states Publix vice president of distribution, Richard Schuler, in a press release.
Publix plans to create an automated frozen food storage and distribution center in order to boost customer service and warehouse efficiency.
For Retrotech's part, their equipment lineup includes their ACTIV High Density Storage System, which sorts units in an exact loading sequence.
"Due to its high-density characteristics, it uses up to 40 percent less space to store the same amount of product as a non-automated system," says Hartman. "Fast movers are more accessible and slow movers are positioned out of the way, so loads can be staged and sequenced for trailer loading. The ACTIV System is expandable to support future business goals and it integrates seamlessly with other material handling systems."
The ACTIV System assists food and beverage managers with proper inventory control in addition to lowering overall handling costs.
Developing trends
With growing concerns related to food quality and safety along with efforts to reduce spoiled product, industry experts expect to see an ongoing movement towards AS/RS in the U.S. Furthermore, the challenges with staffing a refrigerated warehouse are also pushing warehouse operators to become more semi-automated or fully automated.
According to Bryan Duncan, executive account manager in the automated systems division of Schaefer Systems International, another trend developing in the U.S. is the increasing popularity of rack support AS/RS buildings.
"It's been around for a while, but it's becoming more accepted and more mainstream," he says.
Companies in this article