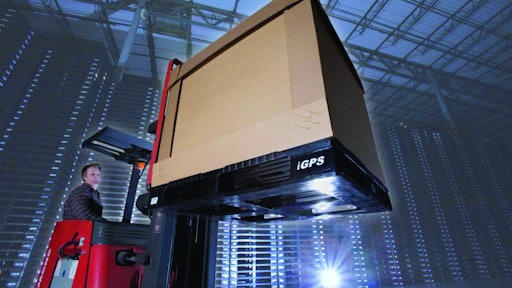 STATUS REPORT: MATERIAL HANDLING
Pallet Update
Every company today is looking for mere pennies to squeeze out of their supply chains, especially when it comes to using and managing pallets.
"Whether it's a result of the recession or of the increasing concerns over rising fuel costs, everyone wants to save pennies—opposed to the days when the aim was to save nickels and dimes," says Mike Hachtman, senior vice president of sales and business development for Houston-based IFCO Systems. "The days of buying a pallet and loading it with product to be shipped out doesn't work anymore. You really need to look at your complete supply chain to determine the best and most cost-effective application for your company."
Pallet providers today are being asked by their customers to help them find holistic solutions that will help contain costs while still providing a high level of customer service. Here are some suggestions from the experts.
Study Holistically
Pallets had long being marginalized and perceived simply as commodities. In reality, high-quality pallets are exceptionally engineered and designed products. They perform as integral components of the supply chain, and are not simply a method of conveyance from one point to another.
"Those who handle pallets must be trained to understand that reusable packaging, such as pallets and containers, are valuable assets," notes Steve Harrison, national sales director for Los Angeles-based Rehrig Pacific Co. "Pallets—and especially plastic pallets—are capitalized over several years and they go onto your books as capital assets. But many times they are perceived as expendable items and not as true assets, which can lead to misuse and needless supply chain costs."
Many people take pallets for granted, notes Chaille Brindley, publisher of Pallet Enterprise in Ashland, VA. "If you are thinking of reengineering your product line, you must consider how that will affect other parts of your supply chain—including your pallets—so you don't encounter load failure," he says, referring to a case involving a warehouse worker who was killed because a bottled water company had redesigned its bottle packaging without considering the affect that would have on the overall unit load.
Members of the National Wooden Pallet and Container Association (NWPCA) understand the critical role pallets play in the supply chain, says Bruce Scholnick, president and CEO of the Alexandria, VA-based organization. "People who join our organization recognize they are in a real supply chain business. As such, our job is to engineer the most effective pallet design to serve the specific requirements of our customers."
CHEP has identified several areas along the supply chain that affect system-wide impacts, notes Derek Hannum, director of marketing for CHEP USA in Orlando, FL. "Our Supply Chain Services is an independent team of supply chain experts from a variety of fields including transportation, equipment, logistics, and planning. They are not linked to our commercial organization, so they offer an unprejudiced and unbiased approach to helping customers understand the system-wide impact of the pallets they are considering."
Procurement departments typically look at the raw costs, with no sensitivity to an end-to-end look as savings, notes Bob Moore, CEO and chairman of iGPS in Orlando, FL. "One of the things I have noticed in difficult economies such as the current one is that many CEOs are charged with getting the lowest price possible, and people shoot off the decision to acquire pallets to procurement. But cheaper does not necessarily mean the best. I encourage companies to get the end-of-the-day cost to use pallet—?and not just the price to get the pallet. If a cheaper pallet ends up costing me more to use it, then it isn't the most cost-effective pallet. So I think the economy took us down a different road as companies stopped looking at the holistic cost."
Understand Requirements
Brindley has been covering the pallet and packaging industry for years and acknowledges he and his staff are material agnostic. "We believe there are places where plastic, metal, and wood fit well. I would encourage companies to sit down with different pallet providers to see what they have to offer and to ask a few providers to do a pilot test to see what works best for their operation. Because there is no way of knowing how your supply chain will react to anything until you actually use it."
Take into consideration what you want to spend and whether you want to use a rental pool or a pool offering a specialty product, Brindley says. "You may find that by conducting an analysis of your supply chain, you can cut costs. Generally, the most expensive part of a unit load is not the pallet—it is the packaging on the pallet. So you might find that you can cut your total cost by retooling some of your packaging. You really have to consider everything per product line and figure out the best way to save money."
In choosing a pallet solution, the primary differentiation is not going to be about the material, notes Hachtman at IFCO. "It's going to be about which type of program is best suited to your operation—and that can be the difference between purchasing pallets or leasing them." Food manufacturers with products having a very short shelf life that are being shipped only to a handful of very large distributors might want to consider a leased platform, he adds.
While some people might still perceive pallets as commodities, the truth is that much engineering goes into the design of a quality-made pallet, says Hannum. "So whether your operation requires wood or plastic, you have to understand what your needs are based not only on your supply chain dynamics today—but what your future needs will be. We encourage people to bring in their pallet supplier early in the decision-making process, because there are a lot of pressures being put on the pallet—such as having to function efficiently in high-speed, automated environments. We also advise that people understand the engineering specs of their pallets. While a pallet might be advertised as having a load rating of 2,800 pounds—which is the GMA spec—that pallet might function fine if it is sitting on the floor; but it might not function well while supporting the load in a free-span rack."
Orbis examines the supply chains of potential customers, notes Abby Verbeten, product manager for the Oconomowoc, WI-based company. "We look at their entire supply chain from inbound shipments, to work in progress, to storage, to outbound shipments. Then we consider what their needs are for retail and display purposes. Not every company will be able to utilize our products throughout every stage of their supply chain—but there are customers that can."
Verbeten says that some customers use plastic pallets for storage. "This is a place where they can contain costs because the pallets will not be leaving the facility. I also see customers transferring from plastic pallets to wood for their outbound shipments." She adds that Orbis offers credit on future pallet orders for the cost of regrinding pallets that are no longer usable. "This is another way we help our customers cut their costs."
Harrison notes that Rehrig offers both plastic and wood pallets. "We feel it is our responsibility to help our customers contain and reduce their overall supply chain costs, so we recommend whatever we can quantify to be the best value for our customers."
Some companies use both wood and plastic pallets within their operation. "We have customers who use plastic or aluminum pallets for their internal processing," reports Hachtman at IFCO. "In cases like these, they might have a captured pallet pool within the confines of their manufacturing process like a chicken processor moving bulk raw chicken on a plastic or aluminum pallet from processing to packaging. Once the chicken is packaged, the products might then go on a wood pallet to be shipped downstream to their customers. So there is a place for both materials, even within a particular company."
The value of the goods you are shipping is yet another factor to consider when choosing the most cost-efficient pallet solution, notes Moore at iGPS. "If you are shipping laptops versus detergent, there will be a huge difference in your decision-making tree. You have to consider that the parameter of the pallet protects the goods on it. All in all, manufacturers should select the platform that best suits the needs of their supply chains. If you are shipping into major retailers who operate robust reverse logistics systems that respect the pallet rental company's ownership rights and will return them, then you save money by having a more robust pallet."
Consider Cost Of Ownership
Companies are increasingly choosing leased pallets over buying them, notes Hannum. "The important thing about leased pallets is that they are made to much higher-quality standards than most pallets made for sale, which figures into the total cost of operation," he says. "Engineered wood pallets are about one-quarter the cost of plastic pallets, so leased wood pallets are still the most effective platform for large-scale pooling. Plastic is best used in closed-loop operations because you are better able to control those assets."
Hannum acknowledges that both high-quality wood and plastic pallets are appropriate for high-volume operations. "It might make sense for a manufacturer constantly shipping truckloads between a production facility and a DC to use plastic pallets because the asset is controlled throughout the supply network, while a manufacturer shipping to dozens of grocery retailers might find wood more suitable."
Remember that there is a supply chain cost associated with moving products on pallets from point A to point B, reminds Harrison at Rehrig. "Part of that cost includes the platform you choose. You can even go as cheaply as using a plastic slip-sheet for about $1.50. But keep in mind that you have to analyze your total supply chain operation—and every supply chain is different. If you have a good closed-loop system, you can start looking at factors like which is the strongest pallet, which is the most sanitary for your operations, and which will give you the least product damage."
There are even instances where it is cheaper for customers to use a one-way pallet, notes Harrison. "We help customers figure out all of these things by analyzing their supply chain. We are material agnostic because we are looking for the best value for our customers. We look at their supply chain collaboratively with them and analyze all of the costs that will be associated with using a particular pallet solution."
Scholnick at NWPCA notes that there could be a cost advantage in choosing a pooled pallet. "For instance, in a closed system for a food retailer with a private label going into a retail outlet, you know what your costs will be. For an open system, there may be a cost advantage in purchasing pallets. I suggest exploring all the costs of pooling systems and assure that you compare both the actual costs and the hidden costs."
Hidden costs could include processing costs and the costs associated with monitoring where pallets are at any given time. "In this case, you have the expense of people, time, and energy required to track pallets. There are also insurance costs to consider. I am not saying that renting a pallet is bad—in fact, in many instances it is more productive than buying a pallet. But purchasing a pallet is a clear issue—you pay 'x' for it and you will sell it for 'y'."
Moore points out that all iGPS plastic pallets are embedded with RFID tags. "This will become important as the FDA increasingly weighs in on product recalls, and it would not surprise me to see the FDA requiring tracking and tracing very soon." He notes that RFID tags are a lot more affordable today than when they were first introduced in the mid-1990s. "Back then I paid $80 for my first RFID tag for a pallet. Today I pay only 11 cents per tag. So the cost gets cheaper and cheaper as the tags gain economies of scale."
Companies can also reap significant cost savings by minimizing damaged and unsaleable products, continues Hannum. "We partner with Genco and Inmar who do the auditing of unsaleables. They are studying the impact pallet condition has on product damage. We have good data that shows when you use lower-cost pallets, your product doesn't make it to the shelf. So, if customers are willing to use a heavier-duty platform in certain situations, they can more than offset that cost by avoiding the costs of unsalables, which is a $2 billion problem in the grocery industry."
The Right Stuff
High-quality pallets—whether wood, plastic, or metal—enable automated storage and retrieval systems to work at optimum levels of productivity, notes Hannum. "If you are working with high-quality pallets consistently, then all of that productivity flows right to your bottom line because you can keep these systems running as fast as they are designed to run without worrying about something getting jammed and stopping your production."
Make sure you are managing your assets—whether plastic or wood pallets, advises Harrison at Rehrig. "You can contain your costs just by how well you can track your assets and knowing where they are at all times throughout the supply chain. Beyond that, make sure you have a good high-quality pallet in your system that will last a long time."
Make sure you are getting as much on a 53-foot trailer, especially in light of fuel costs today, reminds Moore at iGPS. "Have a good understanding of what your true costs are when you choose a pallet solution that will minimize product damage, because all too often this area is not examined when companies consider procuring pallets."
NWPCA is preparing for the launch of the next generation of its Pallet Design System (PDS), reports Scholnick. PDS, developed about 25 years ago in conjunction with Virginia Tech, is leased to companies in about 28 countries throughout the world. "A lot is being discussed about unit load—not only as it relates to safety within the warehouse and other places—but also as it helps companies contain their costs throughout their supply chains," Scholnick says.
Another area of cost containment concerning the NWPCA relates to the new Food Safety Modernization Act. "Our organization recently sent the FDA a position paper on best handling practices we felt were important to address relating to food safety," says Scholnick. "We have a blue ribbon panel working on this right now which will develop best practices based on the input from a number of organizations, including a lumber-grading association and the American Trucking Association. This initiative will help eliminate any concerns people might have about using wood pallets because there will be guidelines on how to handle pallets properly. This will help contain costs across the board because it will minimize the potential of recalls when pallets—of all materials—are handled properly throughout the supply chain."
Long gone are the days of pallet companies simply taking orders from customers and delivering those pallets to those customers, notes IFCO's Hachtman. "Today it is all about providing a service to our customers and working with them as we examine their entire supply chain so we can help them determine which pallet solution is best suited to their unique needs. If you think you are saving a nickel or a penny by buying a commodity, this could end up costing you significantly in the long run."
# # #
Companies in this article