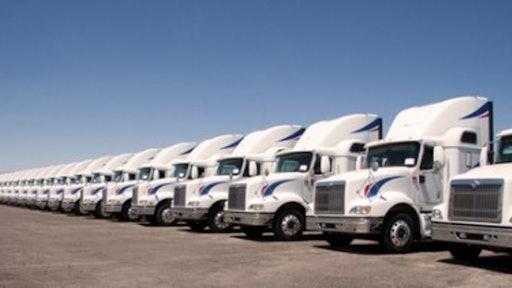 Getty Images
Spot market conditions appear to be a near turning point as carrier pessimism about future demand and rates moderates, according to the latest Bloomberg | Truckstop survey.
"While we don't believe we're out of the woods yet, the shift in sentiment is encouraging," says Lee Klaskow, senior freight transportation and logistics analyst at Bloomberg Intelligence. "Conditions should improve due to seasonal trends, coupled with higher-cost capacity being forced out of the market. Rates may get additional support as inventory levels return to more normal levels."
From PR Newswire:
Demand expectations for the next 3-6 months have improved, though remain below historical 1Q averages. At the same time, the rate outlook is inching up, aided by seasonal trends and more capacity coming out of the spot market.

While about 48% of respondents experienced weaker demand last quarter, 60% expect volumes to rise over the next 3-6 months -- about 20 percentage points higher than the 4Q22 survey. Still, improved sentiment isn't motivating carriers to buy additional or replacement tractors, with only 29% of respondents saying they might make a purchase over the next six months. Soft demand was cited by 42% as the main reason for not buying equipment, followed by higher costs (32%).

Spot market volumes declined 9% on average in 1Q23. Demand remained soft for carriers in the spot market in 1Q, with 71% of respondents seeing a drop from 4Q and about 48% reporting lower volume growth from a year earlier.
"We agree with the sentiment of those surveyed that spot market conditions are near a turning point," said Kendra Tucker, CEO, Truckstop. "Truckstop provides carriers with the technology and solutions they need to keep their business moving and their bottom line growing."