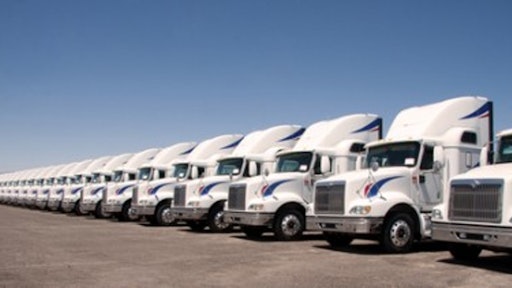 Getty Images
The food and beverage industry has faced several obstacles over the last several years, all while experiencing a boom in growth during that same span. From the constant change in consumer demands to the supply chain's sensitivity to price fluctuations, logisticians must account for growth in the sector and manage the complex factors of food movement.
The food logistics market is a significant component of the food industry, as fresh goods require fast and reliable transportation to get to retailers, restaurants and consumers quickly. Fast and efficient transportation is an essential component to this process as fleets and farmers aim to deliver materials smoothly. But fleets are only as efficient as their tires, which is why proper tires and tire maintenance support every stage in the food transportation business by maximizing productivity and safety.
Transportation trends require fleet adaptability
While the food distribution industry uses many transportation methods, trucking is the most common. Food and beverage commercial trucking fleets can optimize deliveries by ensuring they have high-quality tires on their trucks to improve efficiency and safety. Tires engineered with trusted durability, performance and retreadability can provide drivers with the extended longevity and exceptional mileage to transport goods. When choosing the best tires for food delivery trucks, fleet managers must consider how tires may help to reduce operating costs, environmental impacts and handle the ebbs and flows within the food and beverage industry.
Transportation trends within the food and beverage industry shape the needs of fleet managers and logisticians. Food transporters face unique challenges, including varied weather patterns, rural and urban driving conditions and keeping up with the rising demand from customers to deliver products on time and at a certain temperature. More consumers are changing their shopping habits and searching for fresher, healthier items, pushing fleets to run with minimal downtime. Evolving food laws and regulations, along with increased pressure to keep up with the latest innovations in logistics technology, require industry professionals to remain ready and adapt to change. Therefore, reliability and efficiency are two pillars of transportation that fleet managers must assess and prioritize when selecting tires for fleet vehicles.
When choosing tires for food and beverage fleet vehicles, fleet managers should consider products with advanced tread patterns and additional design innovations and features that enhance the vehicle's longevity and provide excellent performance in wet and winter weather. For longer trucking routes, reliable regional or long-haul tires with low rolling resistance, long wear and higher load capacity can help vehicles carry heavy loads and reduce operating costs.
Tire technology yields innovation in agriculture
The role of tires is considerable within every sector of the food logistics industry from farm to table. While regional and long-haul fleets play pivotal roles in food logistics, the food supply chain begins with farmers who grow crops and raise livestock, and farmers must rely on dependable equipment to maximize efficiency and yields to maintain economic profitability. Beyond serving food retail needs, farmers must consider the environmental impacts of their agricultural practices and leverage the best technologies to become allies for sustainability.
Flat tires can halt a farm's operations. Fields go unplanted and livestock doesn't get fed. To reduce threats to tires, farmers can maximize their time in the field by using tires engineered with improved tread wear and reduced soil compaction. Innovative tire technology has allowed farmers to carry the same load at a lower tire pressure, creating a smoother ride that reduces fuel consumption and enables crops to penetrate deeper into the soil which maximizes growth.
Ag tire offerings have also expanded in design to increase equipment's performance, traction and comfort. These tires are developed particularly for high-horsepower and feature a tread design to improve wear and ride comfort as equipment is transported for longer distances on roads to reach far away fields. This supports farmers as farms expand and the distance a tractor needs to travel to get from a barn to the homestead grows longer.
Boosting industry success in the future
As the food logistics market continues to expand and face new obstacles, tire makers must recognize their role in the future of the food transportation industry to provide reliable products to maximize output on the farm and on the road. Several advantages of tire products and technology such as improved tread wear and flexibility in many conditions provide the reliability and support that food logistics fleets need when deciding on the best products for their vehicles.
Intelligent products and technologies for fleet vehicles provide the groundwork for transportation within the food logistics industry while also supporting farmers and in the agricultural sector. Advancing tire technology with the needs of the trucking fleets and farmers in mind will only continue to produce bottom-line results for the food and beverage industry and meet the food needs of consumers.

        An unexpected error occurred: Network error: Response not successful: Received status code 500
      

            [
  {
    "message": "Cannot execute GraphQL operations after the server has stopped.",
    "extensions": {
      "code": "INTERNAL_SERVER_ERROR"
    }
  }
]