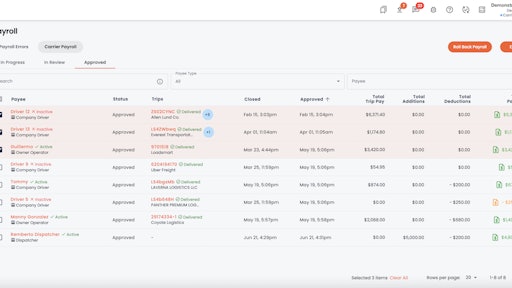 SmartHop
SmartHop announced its new in-platform payroll solution that reduces the operational burden of highly-manual payroll reporting for owners and administrators and provides payment transparency for drivers, dispatchers and other payees.
"Not only is payroll reporting more convenient for fleet owners using SmartHop's integrated Payroll solution, drivers can also manage their payments from the road using the mobile app," says Guillermo Garcia, SmartHop co-founder and CEO. "The Payroll solution updates the payee's ledger in real time as trips are completed, so there are no surprises regarding pay, and issues can be addressed early on, before payments are processed."
From SmartHop:
SmartHop's

Payroll solution is integrated with the larger platform, connecting to other modules like Trip Details and Driver Profiles, to create shortcuts.
The Payroll solution empowers operators of all fleet types to aggregate and approve payroll reports through

SmartHop.

The platform was designed to support various employee pay structures such as flat fees, percentages or miles-based, for example. The new solution also supports payments for contracted loads and dedicated lanes, giving fleets the ultimate flexibility.
The recurring payroll rules feature saves hours of time each week that was previously spent itemizing and parsing expenses into reports. With

SmartHop,

admins set rules for repeat entries, or recurring deductions or additions, and the system automatically applies them each pay period. For example, a fleet that provides their carriers with insurance will add a deduction for the annual premium, and schedule it to be evenly distributed across pay periods.
"Our goal is to satisfy the end-to-end needs of our small fleet customers so they never have to bounce between platforms to get their work done," says Kiel Cook, senior product manager at SmartHop. "The simplicity of using Payroll frees our customers from heavy operational overhead, while bringing SmartHop one step closer to our company mission of 'transforming the lives of millions through sustainable financial freedom.'"