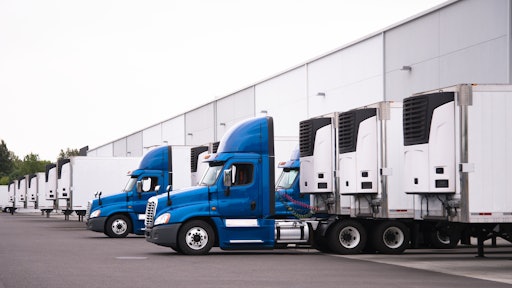 Transflo
When it comes to autonomous trucks, it's all about the equipment and companies, both tech upstarts and legacy truck makers, working to automate the actual driving of the rig itself. A successful on-highway test run conducted by an autonomous tractor-trailer, for example. A mileage threshold surpassed, either on a single-trip or in aggregate. A first-ever live load hauled by an automated tractor-trailer.
Figuring out how to replace human senses — eyes, ears, on-road awareness — and then connecting those replicated senses to operating an 80,000-pound tractor-trailer up and down a roadway is one of the great engineering feats of our time. And, an immense amount of progress has been made on those fronts over the past half-decade.
Autonomous vehicles, particularly tractor-trailers, will eventually revolutionize our society in ways we can't yet imagine. Most likely, it'll be our kids and grandkids that get to reap the rewards of the work being done today.
But, beyond the brakes, throttle and steering wheel and replicating human input to make those functions work, there's so much more to bringing autonomous trucking to reality than solving these engineering puzzles. After all, drivers themselves do more than steer and press the brake and throttle, and automating those tasks are equally vital building blocks in working toward an autonomous trucking industry.
Tasks like managing paperwork, filing truck inspection reports, interfacing with warehousing and distribution centers (aka freight shippers and receivers), maintaining logbooks and duty status records (already automated by the electronic logging device mandate) and communicating with dispatchers about picking up and dropping off loads can all be streamlined or outright automated. And, all of those tasks are already being automated today, meaning those efficiencies are being created right now and not in a hypothetical autonomous tomorrow.
For example, a truck driver is hauling a load of fresh watermelons from Florida to a distribution center in Memphis. There, the melons will be sorted, repackaged and shipped out in smaller pallets to individual grocery stores. When the driver enters the 50-mile radius of the distribution center, without any intervention from the driver or fleet, the facility is automatically alerted that there's a load of watermelons arriving within the next 45-60 minutes.
Then, the facility's inventory management software reads the carrier's electronic bill of lading and knowing exactly where the melons need to go in the warehouse to be staged for their next load and pick-up. The system also automatically relays back to the driver where the driver needs to enter the facility, where the truck needs to go once it's entered and even what dock number to go to. And, because the facility knows the truck is arriving soon and has a dock waiting to unload, the driver doesn't have to spend hours in detention waiting to unload.
The gains there are obvious for all parties -- the driver's happier because he/she didn't have to burn half the day in detention waiting to unload the watermelons. Nor did he/she have to spend the time and hassle communicating with the workers at the dock (who are busy loading and unloading) to know where to go to unload. The facility gets to process the load quicker and more seamlessly. There's new reams of data available at your disposal for business intelligence purposes.
Lastly, and most importantly, extrapolate that drivers' hours out over the course of the millions of drivers on the road and the millions of deliveries made each and every week across the country. Fleet utilization would spike. It would create more capacity available for freight shippers. And it would help ease the pressure of the capacity crisis that's gripping the entire global economy.
That's all possible today with the technology in place.
As an industry, we're so much closer to realizing the gains in supply chain efficiency of automating non-driving tasks than we are of automating any actual driving tasks — and by a long shot.
That's an important distinction for parties across the supply chain to understand because with trucking capacity squeezed to its limits right now and with little relief in sight in the coming years, finding avenues to better utilize the country's existing trucking fleet today, not tomorrow, is paramount to helping shippers like food distributors move their products to market.
Longer term, automating these tasks are core components of reaching any high-level market viability of automated trucking. But, the benefits of these technologies can be realized today for all parties involved in freight transportation — trucking companies, freight shippers, retailers, freight brokers, warehouse workers.
For logistics managers in the food industry, this means more seamlessly transporting products from farms and processing facilities to grocery shelves and restaurants.
Perhaps one day in a hypothetical future there will be truly autonomous tractor-trailers that operate with little to no human input. Maybe there's no one in the cab. Maybe they're being controlled remotely somewhere. Maybe they're on autopilot and an in-cab technician keeps a watchful eye on the whole thing.
It's fun to dream up these types of scenarios. But, they're likely much farther into the future than we realize. No one driving professionally today, and likely for the next few decades, will be replaced by a self-driving, fully autonomous vehicle.
In fact, the inverse is true in the coming decades. Automating drivers' jobs where possible won't replace truck drivers. It instead will expand trucking's labor force and help mitigate the ongoing driver shortage that's plaguing the industry.
Automating drivers' tasks will provide in-roads to the industry for newcomers, make the job more attractive to enter for the next generation of truck drivers and ultimately make the job safer and more productive at the same time. Those are big wins for everyone involved in the movement of freight.