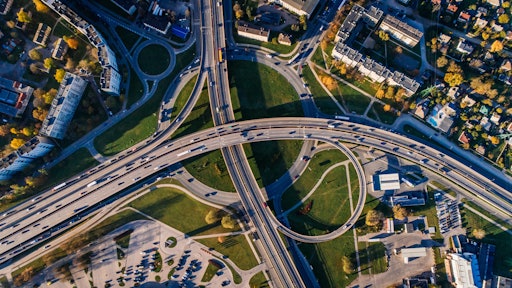 Getty Images
As Hurricane Ida slammed into Louisiana in late August and made its way up through the Southeast, it presented a stark reminder of how easily natural disasters can disrupt vital supply chains, including those that deliver food to all parts of the country.
It's a problem that's not going away. Over the next decade, climate change is expected to cause a $2 trillion reduction in workplace output and productivity. Food and beverage companies, in particular, remain highly vulnerable to supply chain disruptions. The timing of shipments is so vital because of the risk of spoilage, and delays can have huge price impacts. Other industries can afford to wait a week for more favorable prices, but food and beverage shippers must deal immediately with sudden swings in pricing and capacity.
The peak shipping season and the Atlantic hurricane season coincide each year, but this time they're coming on top of a global supply chain that is already overloaded. The next storm could easily leave food and beverage shippers looking at missed revenue and lost customer relationships.
As hurricane season winds down and winter storms loom, it's time to shore up logistics around food and beverage delivery and ensure that deliveries arrive on time.
Here are four ways to be prepared when the weather turns bad.
Expand network of carriers
Whenever natural disaster strikes, it tends to throw the standard supply-and-demand equation out of whack. For example, when food prices rose 31% year-over-year in July, part of the increase could be attributed to extreme weather events.
Both during and after extreme weather events, the usual, proven carriers in that area may not be available to ship loads on the spot market. Those carriers that are available can demand steep prices. This can put produce shippers in a bind when their delivery dates are set in stone.
Rather than choose a newer, unproven carrier, companies can ensure they can access the necessary capacity by looking beyond their existing contracted carriers and expanding their network of reliable carriers. Diversifying capacity ensures they don't get caught short and can still secure competitive rates when the driver shortage forces them up.
Prepare alternate modes and routes
When Hurricane Ida knocked out power and closed roads throughout Louisiana, it struck at one of the country's busiest supply routes. Along with the Mississippi River, the Gulf Coast is home to bustling ports, rail lines and highways responsible for moving food across the US. As a major seafood producer, Louisiana needs to get fish and shrimp to its destination quickly — any disruption can have a major impact.
One way to mitigate traffic delays caused by weather, especially in parts of the country that regularly deal with natural disasters, is by looking at historical and real-time data. Companies can quickly uncover alternative routes by examining data from previous years and overlaying real-time weather patterns and current road conditions. That could mean the difference between an on-time delivery and a late one.
Go beyond track-and-trace
Communication becomes vitally important in the face of a natural disaster. Even as events unfold, companies need to coordinate instant information between carriers, shippers and customers. Snap decisions are necessary to manage changes, delays and other unexpected issues.
Many companies use track-and-trace capabilities to locate shipments in transit. A more practical solution not only tells managers where the load is, but also which loads are most likely to be impacted by weather and traffic conditions and provide proactive solutions to either prevent delays or adjust plans accordingly. By having a seamless connection across modes, companies can provide responsive ETAs that factor in the ever-changing conditions that storms can bring.
Manage exceptions skillfully
Natural disasters significantly affect food and beverage companies' ability to reroute delayed shipments and keep goods flowing to their final destination. If shippers don't have the most current information readily available, time-sensitive decisions on how to handle exceptions for perishables and just-in-time goods can be delayed.
Putting all the information a logistics manager needs on a single screen is an effective way to ensure they know what is happening and what they should be doing about it. This move toward proactive action keeps minor issues from becoming large ones and improves the customer experience by keeping them up to date.
How to predict the unpredictable
The next natural disaster is always looming just ahead, whether that's summer wildfires, Atlantic hurricane season or winter storms. The key for the food and beverage supply chain is to be prepared. Arranging backup carriers and establishing alternate routes will give businesses the best chance of getting timely shipments to their customers. A plan for constant communication and advanced visibility tools are vital to handling unexpected developments and keeping deliveries moving.