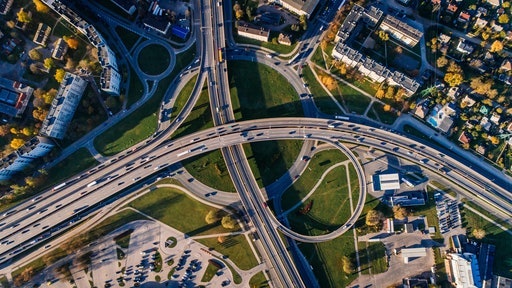 Pexels
The Coronavirus disease (COVID-19) pandemic has pressure-tested the strength of U.S. logistics infrastructure systems and the processes that support them. In the past year alone, we have seen skyrocketing shipping costs, inventory delays, driver shortages and port congestion that has exacerbated the aforementioned points. As a result of these issues, trucking companies have had to adapt to difficult circumstances to manage these extraordinary disruptions. To do so, more transportation companies have looked to technology to address these concerns and remain agile when faced with a new bottleneck.
The logistics industry has seen a significant increase in delayed shipments, shortages of critical materials and difficulties in scaling production capacity to meet consumer demand. Shipping costs have also increased across the board while warehouses, distribution centers and transloading facilities operate at their full capacity, reducing availability nationwide. At shipping ports, worsening container dwell times have led to increased congestion. Drayage companies have seen these issues compounded by a driver shortage due to forced retirement and a significant drop in new driver license training due to pandemic limitations. Simply put, the number of new CDL drivers is not keeping up with consumer demand, which has led to higher costs and more delays.
Despite the new challenges facing the industry, there are plenty of developments to be excited about moving forward. Many of the previously mentioned problems have led to innovative technology that will address different pain points along our sensitive global supply chain for ports, companies, and workers. These solutions range from various types of automation, data analytics, report sharing among stakeholders and more.
Smarter and more automated appointments
An increase in international trade has paved the way for more shipments at U.S. ports and larger vessels are being used to accommodate growth. This has impacted congestion as seaports struggle to manage the sudden influx of containers while also maintaining full visibility to arrivals and departures. One way to ensure these goals are met is by implementing automated appointments. Traditionally, operators at major seaports have had to manually visit dozens of terminal websites in order to make and track appointments. This common, manual process presents a high risk of human error and delay, which in turn causes further fees and delays throughout the supply chain.
To avoid these types of inefficiencies requires open communication with marine terminals, facilitating open API access and enabling drayage companies to integrate real-time data with their own systems. Offering this level of interconnectivity through automated appointments will inevitably lead to more efficient deliveries and less confusion for all parties involved. While strides have been made to make this data available, shippers and carriers have a long way to go before legacy methods of appointment management can be left behind entirely. While a few terminals have developed APIs to promote efficiency and visibility within the supply chain,, the industry is still a long way from full mainstream adoption.
Adoption of reporting and data sharing technologies
For operators working with shippers and freight forwarders, visibility is absolutely critical. Access to real-time container data can help independent owner-operators and fleet owners work proactively to avoid per diem and demurrage charges. It also helps them to make the necessary adjustments to ensure on-time delivery is achieved and shipping fees are minimized. Until recently, operators have relied on traditional channels of communication such as email, phone, and spreadsheets, which contribute to the risk of miscommunication, especially for drivers on the road.
Now, the industry has begun to adopt tools and digital platforms offering shippers and freight forwarders more access to real-time data surrounding a container's status and making the access to that data more intuitive and digestible for supply chain stakeholders. Widespread adoption of these technologies is well on its way to becoming the new norm, leading to better integrations, increased transparency and ultimately to further innovation. While email and phone calls will remain as a method of communication between shippers and carriers, utilizing them as a primary mode of transacting important data will continue to limit transparency and visibility within the supply chain.
Click here to hear more about current trends in trucking:
Additional resources and support for full terminal automation
Automation has transformed several industries, yet is still relatively unused in the logistics sector. Terminal automation is essential in maximizing efficiency and keeping up with the increasing pressure on the global supply chain. However, this suggestion is often met with pushback from industry stakeholders who don't yet trust technology as a viable solution to today's terminal congestion and efficiency challenges.
One of the primary points of concern with full automation is the diminished need for human labor performing manual tasks. For decades, humans have been responsible for manning cranes, tending gates and shuffling containers around at the ports. As a result, managing the human impact resulting from automation at the terminal remains a primary concern. Challenges aside, the benefits of increased technology are impossible to ignore. By implementing automation, organizations can unlock a drastic reduction in long-term operational costs, a decrease in the number workplace safety incidents and improved speed throughout all operations at the ports and within the first mile. Maximizing efficiency through automation will lead to lower carbon emissions and a smaller carbon footprint for shipping companies. Ultimately, shippers, carriers, truck drivers and end customers all benefit from the use of these technologies at ports across the globe.
Supply chain complexity is increasing due to the variety of unprecedented factors freight management has faced over the last year. However, logistics companies only have control over how they are able to pivot and adopt new strategies in order to remain competitive in such a dynamic market environment. The rise in consumer demand requires a new approach to ensure that shipments are received in a timely manner and shipper-carrier relationships remain intact. Implementing automation and data technology can only further strengthen the resiliency of global supply chains and act as a kickstarter for further innovation within the industry.