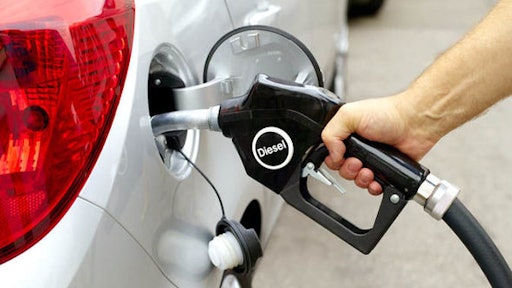 Diesel technology is projected to retain a dominant role in the future, even as potential grows for new alternative fuels and powertrain options for commercial trucks, thanks to continuous improvement in emissions reductions and improving efficiency.
Speaking on a panel session at the ACT Research 2018 North American Commercial Vehicle and Transportation Industries Seminar, Diesel Technology Forum Executive Director Allen Schaeffer noted the overall dominant role of diesel technology in commercial trucking applications and offered perspective about its role in the future. New research from the Forum highlights the penetration of the newest, most advanced and lowest emitting technologies in today's commercial trucking fleet.
"Diesel is the gold standard, the technology of choice for more than 97 percent of all heavy-duty commercial trucks today, thanks to several unique features: power, performance, durability, efficiency – the combination of which has proven unbeatable," says Schaeffer. "Over the last 15 years, truck and engine makers have worked to virtually eliminate emissions from diesel engines. The transition to ultra-low sulfur diesel fuel coupled with advancements in engine combustion, turbocharging and high-pressure fuel injection, and the addition of advanced emissions controls like selective catalytic reduction (SCR) and particulate filters, has enabled today's heavy-duty diesel truck engines to achieve near-zero levels of emissions
"Truckers have given a consistent and continuing vote of confidence to the new technology advanced diesel engines. Today, well over one-third of all the largest heavy-duty trucks in operation use the newest generation of near-zero emissions clean diesel technology. This translates into substantial societal benefits: tonnes of nitrogen oxide and carbon dioxide removed from the air; 98 percent fewer emissions of particulate matter; and thousands of dollars in fuel-cost savings for truckers, adding up to millions of barrels of crude oil saved."
Schaeffer noted that, while emissions have largely been the main driver for the last 10-plus years, the principal focus now is building on that success and improving efficiency of the engine, powertrain and the overall vehicle within the freight system.
"Some of the greatest promise will be in finding the best of both worlds of both established and new powertrain and fuel options to optimize freight efficiency for the trucking customer, whether that be over the road trucking to last-mile pick-up and delivery," continued Schaeffer. "Joint industry and U.S. Department of Energy SuperTruck programs have contributed substantially to commercializing technologies today that continue to push engine and truck efficiency to the point of now doubling the MPG of previous generations of commercial trucks. This all adds up to lower fuel costs for truckers, and lower carbon dioxide and other emissions into the environment.
"Just as truck and engine makers continue to explore electric and other alternative fuel powertrains, they continue to invest in optimizing diesel engine efficiency, performance and emissions reduction. Diesel will continue to dominate and compete at the very highest levels in the future by continuous improvement of the core technology, further progress toward nearer-to-zero emissions of nitrogen oxides, integration into hybrid powertrains, and the expanding use of advanced renewable biodiesel fuels, particularly in urban areas."