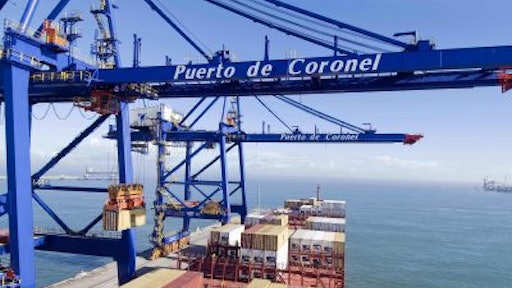 Puerto Coronel, a leading port operator in Chile's central/south region, projects a 30 percent growth in shipments of aquatic products, including salmon and frozen mussels, for the remainder of the year, as the red salmon season commences next month. 
The port operator has participated in the export of seafood for nearly and a decade, and has since built a relationship with the industry based on the logistical benefits provided by its location and frequency of shipping services, which maintain it as one of the main maritime exit points of these type of shipments in the center-south. Since 2009, aquaculture exports have steadily increased thanks to Puerto Coronel's cargo capacity, shipping services with weekly connections to Asia, Europe and North America. as well as its proximity to the the Los Lagos Region and its important commercial fisheries, says Rodrigo Schilling Norman, commercial manager of Puerto Coronel.
"Beyond the annual fluctuations, our commitment to aquaculture exports is to build a long-term relationship based on the level of service we are building and the efficiencies we can provide to exporters," Schilling says, highlighting the recent addition of Tokyo, a key market for red salmon.
"We have prepared for this season with new infrastructure and load management in the outer harbor, in addition to greater capacity of plugs in the stacking area, adding 160 additional connections. To that, we add a shipping service with faster arrival in Tokyo, in addition to the regular service to Europe that allows us to connect with the Russian market," he adds.
At the beginning of the year, Puerto Coronel also announced a $30 million investment to add two new container cranes and strengthen its infrastructure in container operations.