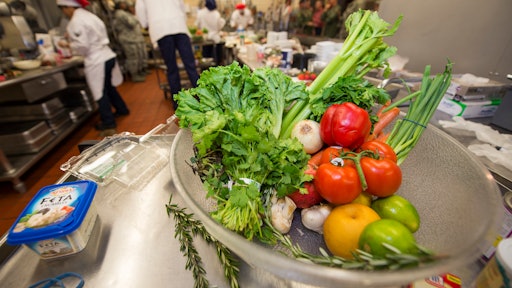 A labor crunch in the trucking industry is making it more expensive to deliver everything from apples to zucchini.
According to Freight Transportation Research Associates, U.S. shipping rates jumped 14 percent in the year ending June 30, meaning restaurants too are facing higher prices. To avoid passing them along to customers, many are shopping closer to home.
Nick Marsh, chief executive officer of Chopt Creative Salad Co., an East Coast chain with more than 50 outlets, tells Bloomberg its shipping costs jumped 20 percent from last year. He blames the spike on the driver shortage, as well as the recently implemented ELD mandate that monitors driver's hours.
Marsh says Chopt already gets more than 50 percent of its food from local vendors during summer, but it's recently started buying more baby kale, spinach and arugula from Florida instead of California, and is looking into greens grown indoors in New York.
Buying local is not a new concept for restaurants, however. Chefs who use locally grown ingredients often remarking on its improved quality due to shorter shipping times.
To read the full original article, please click here.