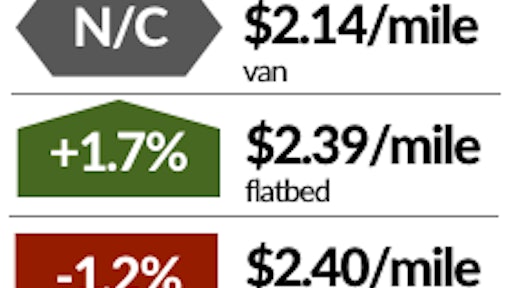 The number of loads on the spot truckload freight market surged 7.6 percent during the week ending March 3 as rates appear poised to rebound.
Truck posts declined 2 percent which helped push load-to-truck ratios higher for all three trailer types: 
Van L/T ratio: 7.0 loads per truck, up 5 percent 
Flatbed L/T ratio: 79.9, up 13 percent
Reefer L/T ratio: 10.6, up 15 percent
After seven weeks of declines, the national average spot van rate was unchanged at $2.14/mile but rates rose on 66 of the top 100 van lanes. Van load posts increased 4 percent while truck posts declined 1 percent. At 7.0 loads per truck, the van load-to-truck ratio is about three times higher than it was at this time last year. 
The national average reefer rate fell 3 cents to $2.40/mile but the number of available loads was 11 percent higher than the previous week and truck posts declined 3 percent. Reefer load counts are roughly equal to where they were in mid-January. 
Flatbed rates rose 4 cents to $2.39/mile, an increase for the fourth straight week. Capacity continued to tighten and the load-to-truck ratio for flatbeds hit its highest point in years. Extremely strong markets include Atlanta, Birmingham, Memphis, Green Bay, and Cleveland. The national average rate is up 9 cents per mile in the first few days of March. 
Capacity may tighten in the weeks ahead with the end of Q1 coinciding with both Easter weekend and the April 1 end of the phase-in period for the ELD mandate. 
The national average diesel price dropped another 1.5 cents last week to $2.99/gallon.