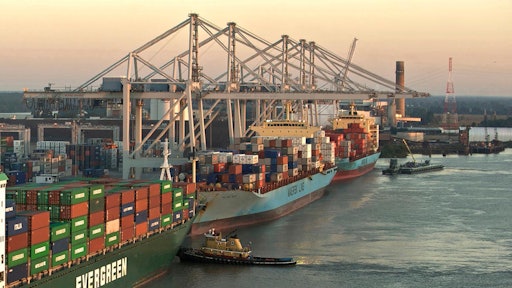 Plans for a new industrial park were announced last week near Savannah, Ga. where cargo traffic has left warehousing space at a premium.
Capital Development Partners will build the $125 million Savannah Port Logistics Center. The 197-acre complex will include more than 2.3 million square feet of warehouse space.
Traffic through the Savannah port grew to a record of nearly 4 million twenty-foot-equivalent units (TEUs) in 2017 and is expected to grow as work continues to deepens the Savannah River channel.
Savannah has seen numerous warehouse developments to help accommodate the movement of imports and exports through the port, but the space is still tight. Land near the port with ready highway access are rare.
CDP plans to start the first phase of the development next month, with a second phase to start later this year.
In February, ports officials announced the agency was developing a 10-year, $2.3 billion expansion plan that would allow the Savannah port to accommodate 10 million TEUs.
The Army Corps of Engineers announced this week that the nearly $1 billion project to deepen the Savannah River had reached its midpoint.
To read the full original article, please click here.