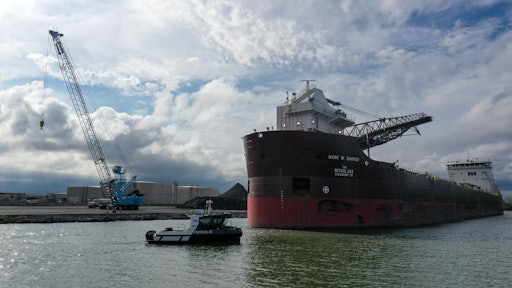 Mythos AI
Newlab announced Mythos AI as the first participant of its Multimodal Logistics Challenge, a coalition of startups, industry leaders and government agencies working to improve efficiency and resilience in supply chains through groundbreaking pilot projects.
Mythos AI is advancing maritime commerce by mapping marine highways while simultaneously training algorithms for self-driving in-shore vessels.
"Ports are critical logistics nodes that must remain at the forefront of technological advancement to keep up with the rise in shipping and maritime activity," says Sahil Jain, director of strategy at Newlab. "By digitizing and automating port infrastructure and operations, we can achieve a transformative shift towards decentralized and decarbonized multi-modal logistics. This pilot at the Port of Monroe is the first step to accelerating the utilization of marine highways for sustainable and scalable freight movement."
"Self-driving vessel technology will reshape maritime logistics," says Mythos AI CEO Geoff Douglass. "Scaling this innovation to other ports will transform antiquated systems, reduce emissions, and drive economic growth on a global scale. Our partnership with Newlab has been instrumental to getting us the access we need to derisk this technology much quicker than we would have been able to on our own."
Key takeaways:
Together with Newlab, the Port of Monroe, and Michigan Central, the company is conducting an 8-week pilot to map the port berths and anchorages at the Port of Monroe—a strategic waterway that connects the Great Lakes to the Atlantic Ocean—which will create a digital twin of the region and expose the machine learning to waterway-specific conditions.
The ultimate goal of these advancements is to create automated marine highways, which are the key to increasing port efficiency, lowering maritime carbon emissions, and creating supply chain resilience. Disaggregated marine shipping will use smaller boats, rivers, and in-land waterways to move goods more efficiently and resolve bottlenecks.
"The Great Lakes-St Lawrence System is one of the most complex marine highway networks in the world, thus making us a prime test platform for innovative maritime technologies," says Port of Monroe port director Paul LaMarre. "Newlab's development process is facilitating new relationships with startups that will allow us to transform our Port facilities into a living lab for the future of logistics. Our pilot with Mythos AI has immediately enhanced our situational awareness of our waterway while providing critical data for real-time navigation and engineering applications."
"This pilot demonstrates the potential we unlock by extending the Michigan Central-Newlab testing network over land, air, and maritime mobility nodes throughout the region," says Matt Whitaker, Michigan Central's director, Mobility Innovation Platform. "Bringing Mythos AI and the Port of Monroe together not only advances sustainable, real-world mobility solutions, it also drives economic development for our communities."