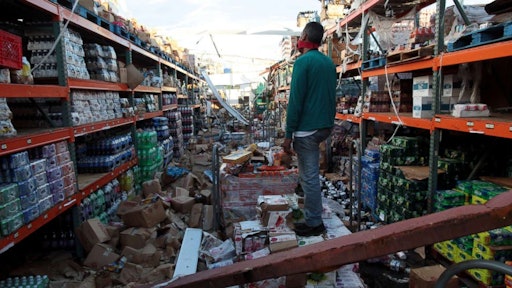 ABC
Hurricane season is in full swing, and companies surrounding the coast are preparing for any remaining storms to come. Yet, preparation may be more important for the grocery sector.
"Planning is key. You have to do a lot of pre-storm planning and communication before the event. If you do that, you can manage this very successfully so we can get the store open as soon as we can," explains Michael Hess CEO of Waste Harmonics.
Those in the storm's path, whether business owners or civilians, prepare for the event by stocking up on must-have items. Often times, stores sell out of products before the extreme weather incident even hits. So, it is crucial to plan for events that may force stores to close down.
Hess suggests that grocers plan for major weather events in advance by talking with their waste broker. A "war room" should also be put into place, so that there is one central location that manages all activity that surrounds the event.
"We spend a lot of time talking about how we can communicate [during the storm], who we can communicate with and even how their stores are set up," he says. By knowing the store's footprint, service providers are able to provide the equipment that is needed after the storm hits and get it to an area that will make the most sense to dispose from.
If a grocery store does end up shutting down as a result of extreme weather, service providers and grocers must work together to ensure that the store will open as quickly as possible — avoiding any possibilities of looting or any further damage.
For Hess, it is necessary that waste brokers shift focus based on store set up and what assets they have available to them. Brokers and grocers need to proactively plan, so that they can communicate effectively and determine which store is a priority.
"One of the issues that we found going through this is getting clear communication from the store level. We go back through and ensure they have the primary communication with their store managers and with their receivers, so that if they get through an event they know how to communicate [with the grocer]," Hess explains.
Waste Harmonics, like many other waste brokers must determine how proactive they need to be prior to the storm. Do they need to send equipment there, or is there enough resources surrounding their location? An extensive amount of planning goes into major weather events, so that providers can ensure they can get the store open as fast as they can.
"We have to be proactive with these events. If you're not planning for pickups before the event, or regular containerized services to come, what happens is you're waiting for the storm to come, it hits, it leaves and now everybody in that community that has some sort of damage is calling the waste provider, and you are put on a list. If you don't plan ahead of time for that, you won't get the service that you need."
It is crucial for service providers and grocers to be proactive in pre-storm planning, so that they can develop a good work process. Hess and his team at Waste Harmonics make sure to have a clear path of communication and understanding of the store's footprints and resources, so that they know what needs to get done. By having a good work process, grocery stores will be open as quickly as possible and continue to serve the consumer in their time of need.