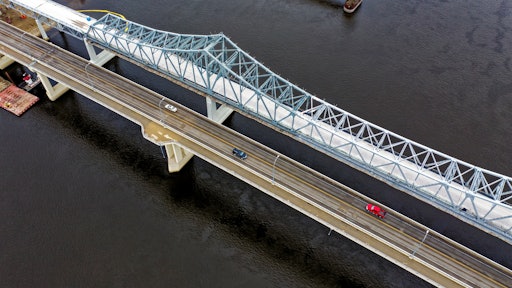 Pexels
Missouri Port Authority's Container-On-Vessel (COV) service will deliver a new option to transport freight along the state's inland waterways, along with moving larger volumes of goods and commodities along the Mississippi and Missouri Rivers.
The COV service is expected to reduce freight transportation, costs and increase efficiency and reliability for shippers.
"If you really look at Missouri and look at the ports we have running down both sides of the state – something no other state has – and you look at our highway system going north, south, east and west, and you look at our rail system spanning across the country to the east and west coasts, to Canada and Mexico, we have the ideal, prime location in Missouri to capture these kinds of investments in our state," Missouri Governor Michael Parson said. "We're going to put everything on the table that we can to find a solution."
The service is expected to increase freight volume by 40 percent in the next 30 years as global trade patterns are impacting how containers are moving throughout the United States. Among the types of commodities that can move in large vessels include, seasonal furniture, appliances, construction materials, containerized soybeans and other agriculture products. In addition, refrigerated products like beef and pork may also be an option.
"Our region has earned the status of having world-class freight network based on national rankings," said Mary Lamie, who leads the St. Louis Regional Freightway for Bi-State Development. "We're the third largest inland port, third largest rail hub in the nation and one of the most competitive and efficient inland port systems in the nation. In 2017, we branded our region as the Ag Coast of America and that's based on the fact that nowhere else on the Mississippi River has the capacity for barge handling of fertilizer and agriculture products that we do, and that's based on those freight assets."
COV will need to connect more freight through inland waterways to move the freight, aiming to partner with Kansas City and Jefferson, as well as with ports in Louisiana.
The COV Gateway terminal will be able to accommodate a 20,000 TEU ship and connect with all the modes of transportation in the Midwest, giving beneficial cargo owners optimal options to move their freight.
"We're implementing a whole new system that starts with a strategic, state-of-the-art Gateway Terminal, linked to strategic state-of-the-art container terminals in the Midwest, connected by innovative and patented vessels that carry critical mass at the lowest landed cost on an all-water route, providing significant savings to shippers without compromising reliability," said Sal Litrico, Chief Executive Officer, American Patriot Container Transport LLC (APCT).
The vessels that APCT is developing will be capable of carrying large quantities of containerized freight at more rapid upriver speeds on an all-water route, connecting Missouri ports in Jefferson City, Kansas City and the St. Louis region to the lower Mississippi ports. The Liner vessel will carry up to 2,500 containers at speeds of 13 miles per hour upriver, making round trips from Plaguemines Port Harbor & Terminal District in Louisiana to Memphis possible in seven days and to the St. Louis region in 10 days.