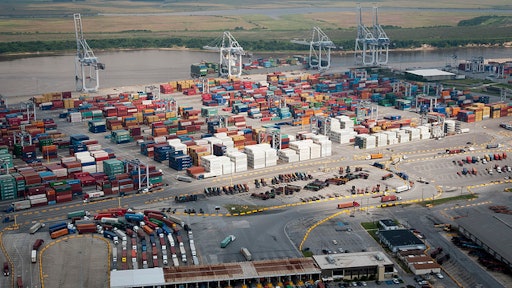 Georgia officials revealed plans to build a $90 million inland port that will be designed to improve access to Savannah's booming harbor hundreds of miles away and reduce congestion through metro Atlanta, Politically Georgia reports. 
The Northeast Georgia Inland port will link to Savannah by rail and will be built in Gainesville. When the project is completed in 2021, it will be the new shipping hub for millions of tons of goods set to be imported or exported through Savannah. 
Politically Georgia reports that the site will be approximately 300 feet from the port, a commute that takes truckers more than four hours one-way. With the the inland port, at least 150,000 trucks will be kept off the road each year. 
This is the third inland port that Georgia has developed. The site is in the middle of an industrial belt teeming with carpet and flooring manufacturers. Politically Georgia reports that the facility will move 50,000 containers each year via the CSX railroad. 
According to Politically Georgia, the hub is bracketed by a four-lane highway on one side and a Norfolk Southern rail line on the other, providing a direct route to Savannah. Additionally, the railroad is moving its headquarters to Atlanta soon.