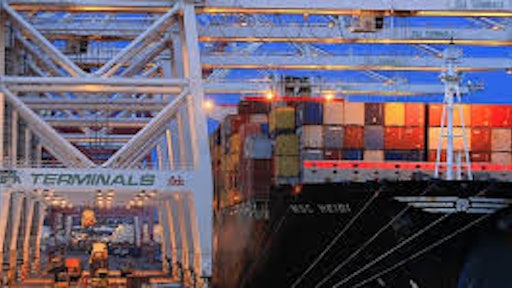 A $130 million funding project is erupting at the Port of Los Angeles.
The new container staging facility is expected to boost productivity by 10 percent, reduce emissions, create jobs and ease truck congestion. The staging hub will be constructed on Terminal Island.
When completed, the 110-acre facility will take about 3,500 truckloads a day to the Harbor Performance Enhancement Center staging area. The facility will enhance the efficiency of imported containers passing through the marine terminals at the San Pedro Bay complex, which takes in 42 percent of all U.S. imports.
HPEC will use a hub-and-spoke distribution model that will reduce transportation costs, improve cycle times and reduce inventory while improving the distribution process.
The project is going through the California Environmental Quality Act process to ensure that state and local agencies identify and offset any environmental effected that could be created from it. Within a few months, a small pilot portion of the staging center that doesn't require CEQA approval will be up and running.
To read the full original article, please click here.