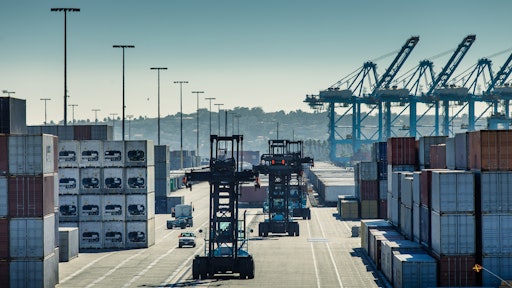 Getty Images
Members of the longshoremen and warehouse workers union are protesting the approval of a permit that will allow a major terminal operator, APM Terminal, to increase automation at the Port of Los Angeles, the Daily Breeze reports. Leaders of the union argued against the permit, saying that it could potentially eliminate thousands of jobs and damage the larger community.
According to the Daily Breeze, the permit was supposed to be discussed at a meeting of the L.A. Board of Harbor Commissioners last Thursday, but was pulled from the agenda the day before with no explanation.
While the permit is still approved, it could slow down APM's plan to increase automation. In order to be legally valid, it needs to be presented to the board. Usually approval is automatic, but the longshoremen's protest could halt the process.
"We pulled it because we talked with both parties and we understood there was a lot of concern from the ILWU that came up in the last day or two," Phillip Sanfield, a representative for the harbor commission said to Daily Breeze. "We see our role as intending to help facilitate a dialogue between the two parties involved - the union and our tenant- to discuss this issue. We pulled the item to help facilitate discussion between those parties." Once the permit is back on the agenda APM can move forward with their plans, however, it won't be until the two parties talk it out.
While the automation project is set to unfold later this year, it is too early to tell how many jobs could be cut.
Union members planned the protest prior to the permit being removed from the agenda. At the meeting, union members addressed the committee saying that automation would only hurt the community, citing the 70 percent in reduction of human labor when more automation was introduced at the Port of Long Beach.
John Ochs, senior director for APM Los Angeles addressed the commission and union members saying, "I represent the big, bad company. I represent your tenant. APM is not insensitive to what this plan will do, not to the workforce today, or next week, or what it'll do to the workforce 20 years from now. Although you may have this perception of APM as this foreign company, APM Los Angeles is a U.S. company."
He continued to say that he understands the view of the union members, but that the labor contract states the union can't interfere with APM's right to change how the terminal operates and saves on labor, Daily Breeze reports.