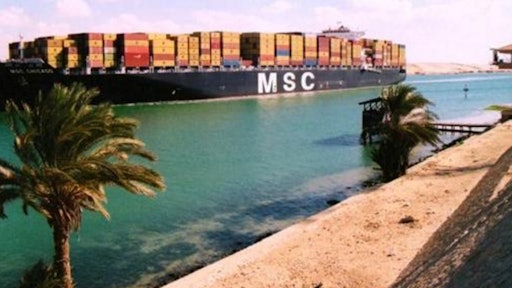 According to multiple news outlets, Egypt's Suez Canal Authority is involved in talks with several of the world's largest shipping lines about negotiating toll payments three to five years in advance in order to try and draw business away from the newly expanded Panama Canal.
Danish logistics group A.P. Moller-Maersk's Maersk Line shipping arm told Egypt's Al-Arabiya they are considering proposals from the Suez Canal Authority for a new toll system that could involve advance payments.

"They have proposed a new payment method and presented it to us, and we are looking at it now," a Maersk Line spokesman said.

Talks with Maersk, Geneva-based Mediterranean Shipping Co. and France's CMA CGM were going well and an agreement to come into effect at the start of 2017 might be reached as early as next week, he told the newspaper.
Egypt has spent billions of dollars deepening the canal and opening it to two-way traffic, but the number of vessels passing through has barely grown amid a slowdown in global shipping. Under the proposed early payment plan, Maersk Line, Mediterranean Shipping Co. and CMA CGM would receive a discount, potentially making the Suez route more attractive route than the Panama Canal.
To read more, click here.