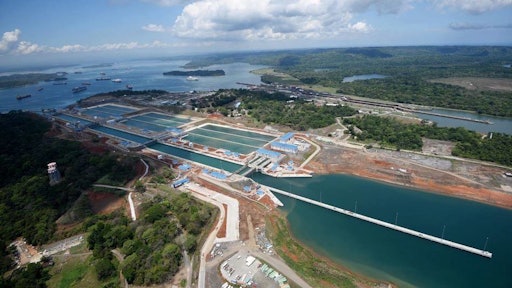 Carriers in the proposed new Ocean Alliance and The Alliance groups have recently revealed details of their service networks for their April 2017 shipping season. Full port rotations on some trades are still to be announced, and while no vessel deployment or transit time information for any of the routes has been given, we do at least know the full-service line-ups for Asia-East Coast North America.
What they reveal is that more carriers are pledging allegiance to the Panama Canal routing over the Suez Canal option with 12 weekly services planned for the former versus only four confirmed loops for the former. The Suez figure could rise to five if Zim brings back its recently suspended Z7S service.
The traditional benefit of using the Panama Canal was to reduce voyage time between Asia and the U.S. East Coast, when compared to using the route via the Suez Canal or around the Cape of Good Hope. From Hong Kong and South China and from any other point further north, the Panama route is shorter. But in recent years the Suez option grew in popularity as more production in Asia has moved from South China to lower labor costs countries such as Vietnam and Bangladesh (the Suez route is shorter for the Middle East, the Indian Subcontinent and South East Asia) and because, prior to the widening of the Panama Canal, Suez allowed carriers to deploy considerably bigger ships and achieve lower slot costs.
To read more, click here.