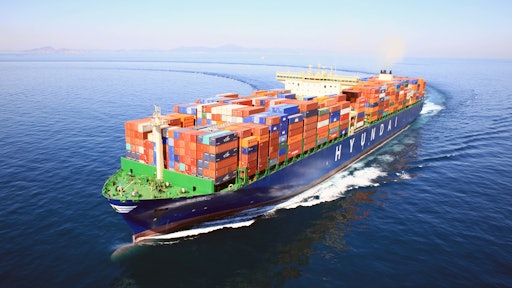 Hyundai Merchant Marine will acquire Hanjin Shipping's core assets to achieve a merger between the two carriers, according to Business Korea.
The creditors and financial authorities opted for the receivership of Hanjin Shipping and the acquisition of Hanjin Shipping's core assets by Hyundai Merchant Marine. The idea is to achieve a merger between the two national flag carriers at a minimum cost.
At present, Hanjin Shipping has 95 ships carrying containers equivalent to 540,000 TEU. The company is currently in business with no less than 8,181 shippers around the world, including 847 in South Korea. Once the receivership is initiated, the ships are detained and their cargoes are forced to be unloaded. This means the shippers have to retrieve their 540,000 containers by finding other ships, which is likely to be very tough in the ongoing ocean line peak season of August to October. In this context, the government is going to utilize Hyundai Merchant Marine's ships, four for shipping routes to the Americas and nine for those to Europe. It is going to ask CKYHE to rearrange ships, too.
In the meantime, Hyundai Merchant Marine is looking to absorb nothing but core assets from Hanjin Shipping. Examples of these include not only 37 vessels and the rights to manage the Long Beach Container Terminal, the Gwangyang Terminal and the HPC Terminal, but also the sales networks and human resources of the shipping firm. Hanjin Shipping is in possession of more than 70 ocean routes as well as relations with shippers across the world. It is said that the establishment of a single profitable ocean line costs 1.5 trillion won. Hyundai Merchant Marine is looking to save this cost by absorbing Hanjin employees.
The financial authorities and creditors are estimating that Hyundai Merchant Marine will have to spend 300 billion won to 400 billion won on the key asset acquisition. "The Korea Development Bank, the largest shareholder, is mulling over providing assistance in the form of loans," said a high-ranking government official.
The government's fund prepared for assisting in the building of super-large ships is forecast to be underutilized once Hyundai Merchant Marine takes over the ships from Hanjin Shipping. The former and the latter already have 10 and nine 13,000-TEU ships, respectively. "The main purpose of the fund for the shipbuilding industry is to replace old ships with super-large green ships," another official explained, adding, "The size of the fund can vary depending on how many ships Hyundai is to purchase from Hanjin."
To read more, click here.