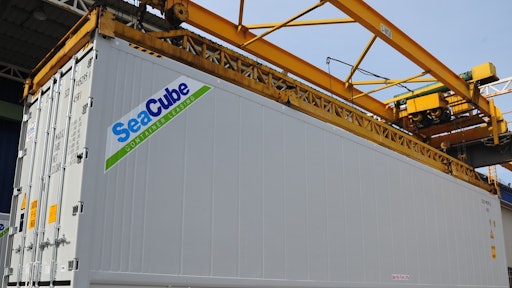 SeaCube Containers
On March 23, a stranded Evergreen container ship blocked navigation in Egypt's Suez Canal. Experts claimed a lack of visibility forced the 224,000-ton ship named EVER GIVEN, said to be the largest ship in the world, to run adrift and tip on its side while en-route to China, creating the largest supply chain disruption in 2021 to date.
Six days later, after hours of digging, tugging and pulling, the around-the-clock international effort eventually freed the massive vessel and re-opened the shipping lane.
While the re-opening of the Suez Canal sent cheers and celebrations around the world, it also set the stage for what became a domino effect of supply chain disruptions.
In Food Logistics' May 2021 issue, editor-in-chief Marina Mayer talks with several industry experts about the Suez Canal crisis, the importance of supply chain visibility and what's in store for the future in terms of mitigating supply chain disruptions.
Here's an interview with Bob Sappio, CEO, SeaCube Containers, with excerpts publishing in Food Logistics' May 2021 issue. [CLICK HERE to read the article in full].
Food Logistics: From your vantage point, what are some of the top challenges and/or opportunities pertaining to ports and ocean carriers? And, why?
Bob Sappio: The pandemic has created growth opportunities within the cold chain industry, resulting in propelling the demand for cold chain outsourcing, refrigerated transportation, warehousing and many other areas that quickly became amplified immediately following the pandemic lockdowns. While the restaurant/food delivery services suffered, the accelerated demand for packaged food, fueled by the shift to the food retail environment, more than offset the restaurant segment downturn.
Food Logistics: Despite the impact of COVID-19 on our nation's supply chains, ports and ocean carriers remained undeterred. Instead, they pivoted to become "smarter." How and/or why did this happen?
Sappio: The pandemic and events in 2020 condensed years of change into months. Every ship has been employed, nearly every modality of transport is full. The container shortage many have experienced around the globe is due to supply chain constraints and slower network flow; it is most certainly not under production of equipment.
Food Logistics: What technologies or features did your port/ocean carrier implement/deploy to become more sustainable?
Sappio: With COVID-19 and global regulatory framework constantly changing, refrigerated container technology will expand its critical role in visibility, monitoring and compliance going forward. The need for tracing food sources and monitoring environmental conditions of food cargo events will be elevated since inspection processes will be streamlined as compliance rigor increases.
Food Logistics: What kinds of cold food perishables have you seen an increase or decrease in import/export? What do you attribute this to?
Sappio: Unlike the overall container trade, the containerized refrigerated trade has been mostly stable and proven resilient. Global growth in perishables in 2020 and YTD 2021 has come from pork and bananas. The biggest loser has been the frozen seafood and fish sector – people dined out less during the pandemic and that's where most of the seafood we eat is consumed.
Large food retailers, and specifically big box retailers, experienced a surge in perishable sales by upwards of 20-30% during the peak of the pandemic and lockdown periods. Some of this was due to the run on key cold commodities, food purchase stockpiling and the increased demand for food because of the stay-at-home work environment.
Food Logistics: Can you offer comment on the Ever Given/Suez Canal situation? Do you view this as a one-off situation or as something we should expect to see more frequently moving forward? Do you feel it shines a light on a specific challenge within the current supply chain?
Sappio: This is not the first time large vessels have run aground in the canal, although the EVER GIVEN may have been the longest. The ocean carriers have built bigger vessels to gain scale economies, basically to move more containers across the globe at a lower and more efficient cost per slot mile. Shippers demand lower prices, the carriers cannot control price, but they can control cost. It is of course natural and expected they would do this, just as airlines build more efficient planes and big box retailers build larger stores. Companies do this to become more efficient, earn a proper return and re-invest in business. However, the size and scale of the vessels have in some instances out-paced shoreside and physical infrastructure. That's going to take time and capital to correct and catch up and that work is well underway.
The Suez Canal situation showed how resilient the network actually is. Ocean carriers quickly advised customers, tracked delayed shipments, shifted routings. Trade did not stop. It may have been delayed, but it did not stop. Technology, customer service, and contingency planning allowed shipping companies to improvise, overcome and adapt. At the end of the day, the impact on actual consumers is negligible.
Food Logistics: What are some things not addressed above that may be pertinent to our readers?
Sappio: Port congestion is related to constraints in labor, transportation capacity planning and overall pandemic disruption due to infections. In this connection, redundancy will be a priority for the cold chain to be reliable. Until the vaccine is widely distributed and available, the cold chain transportation networks will continue to be disrupted. Labor shortages, quarantine impacts and delivery conveyance will continue to be challenged with inconsistent performance and reliability as a result of the virus. These pandemic-related impacts will create the need for companies to revisit their planning strategy, incorporating redundancy and contingency options.