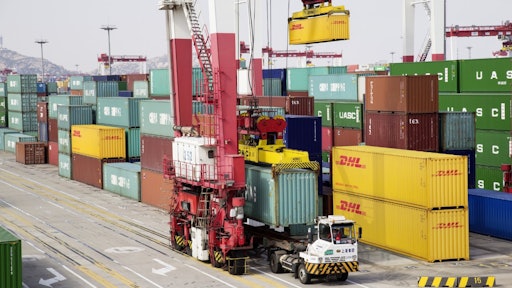 DHL
On March 23, a stranded Evergreen container ship blocked navigation in Egypt's Suez Canal. Experts claimed a lack of visibility forced the 224,000-ton ship named EVER GIVEN, said to be the largest ship in the world, to run adrift and tip on its side while en-route to China, creating the largest supply chain disruption in 2021 to date.
Six days later, after hours of digging, tugging and pulling, the around-the-clock international effort eventually freed the massive vessel and re-opened the shipping lane.
While the re-opening of the Suez Canal sent cheers and celebrations around the world, it also set the stage for what became a domino effect of supply chain disruptions.
In Food Logistics' May 2021 issue, editor-in-chief Marina Mayer talks with several industry experts about the Suez Canal crisis, the importance of supply chain visibility and what's in store for the future in terms of mitigating supply chain disruptions.
Here's an interview with Goetz Alebrand, SVP head of ocean freight, Americas, DHL Global Forwarding, with excerpts publishing in Food Logistics' May 2021 issue. [CLICK HERE to read the article in full].
Food Logistics: From your vantage point, what are some of the top challenges and/or opportunities pertaining to ports and ocean carriers? And, why?
Goetz Alebrand: Ports still face challenges including navigating potential bottlenecks, and we see that in the current port congestions. Carriers are also trying to adapt to the "New Normal" of a pandemic year in providing more flexible solutions for customers.
We foresee that the current situation will not have a near-term resolution on the horizon since carriers still work through their infrastructure adjustments such as footprint, capacities and frequencies, but as the leading freight forwarder, we have the network and access to continue to provide services to our customers with the same operational excellence that characterizes DHL Global Forwarding in pre-pandemic times. The pandemic overall has created a huge push for transformation in digitization, creativity and lead to new profitability.
Food Logistics: Despite the impact of COVID-19 on our nation's supply chains, ports and ocean carriers remained undeterred. Instead, they pivoted to become "smarter." How and/or why did this happen?
Alebrand: We believe that digitalization has never been more important. Adapting and accelerating new technologies needs to be done quickly. This is vital for any business, especially the freight forwarding one. New technologies are drastically changing the way we work from the perspective of improving productivity. As employers, we also have to liaise with our customers about our digitalization efforts. We not only invest in new technologies and digitalization, but also encourage our customers to implement them like our new, myDHLi platform.
COVID-19 has also been a catalyst for technology change. With the spread of the Coronavirus, we are experiencing an increasing demand for digital solutions from our customers and partners. We have also become more resilient and flexible – finding charters and transport solutions for temperature-controlled shipments where there was almost no airfreight capacity. Working from home and adjusting to an all-virtual environment in not only getting the job done, but also connecting with our customers and finding new ways to help them navigate the same pandemic we were, while maintaining social distancing. Many things are involved in moving shipments around the world, but digitalization definitely has the potential to not only make it easier, but also faster and leaner.
Carriers have done the same; they have invested in their digital landscape and they have also consolidated. Both gave them a better hold on the supply to the market, and we see this new flexibility and use of technology in how they deploy capacity or reposition equipment. Ports around the world are investing into digital capabilities as well, which are longer-term investments, but will drive the future of ocean freight.
Food Logistics: What technologies or features did your port/ocean carrier implement/deploy to become more sustainable?
Alebrand: Carriers like CMA are investing into LNG vessels like the MV Jacques Saade ad they partner with us for our GoGreen initiatives to reduce the carbon footprint for logistics. Ports are working under the World Port Sustainability Program (WPSP) together. The areas of interest include energy efficiency, circular economy, bio-based economy, renewable energy, CO2 and infrastructure, clean ship incentives and deployment of alternative transport fuels.
At DHL Global Forwarding, we invested in myDHLi, which is the only fully integrated online platform for freight forwarding customers. It provides completely transparent management of freight rates, offers, transport modes, carbon emissions and all other relevant shipment data. The highly intuitive use interface makes it easy to use and ensure that customers have all relevant information at hand. Reflecting already well-established social media functions like follow and share, relevant information can be easily accessed across organizations and trading partners. And, customers experience superior online services for full shipment visibility and control in one platform.
Aside from our newest digital platform, our innovation approach is focused on the following:
· Upgrading its digital ecosystem, with the transportation management system at the center in order to speed up and simplify processes, increase responsiveness, eliminate paper and operate more efficiently;
· Targeting innovation that meets specialized requirements from customers in key verticals, such as pharma (i.e. sensor technology, packaging);
· Piloting the use of AI and machine learning to improve route and capacity planning (i.e. Global Trade Barometer);
· At a global level, looking at the feasibility of longer-term, potentially more disruptive innovation, such as digital freight platforms and autonomous trucking/platooning.
Food Logistics: What technologies or features did your port/ocean carrier implement/deploy to become safer for workers and product?
Alebrand: Carriers and ports are continuously working to improve safety, especially during this pandemic. Measures include keeping crews on board longer and reducing the time they are on land – kind of a new "working from home" for seafarers. Services and programs are also put in place to navigate the mental health and stress levels of all of the workers, which is paramount in keeping them safe. Additionally, ports have also lobbied to put workers in the transportation sector on the priority list for COVID-19 vaccinations, which is very important.
At DHL Global Forwarding, we actively promote the health of our employees and provide them with a safe working environment. This is our way of building and maintaining an able-bodied and motivated workforce. This is even more important during a pandemic.
In additional to increased safety protocols and procedures, we have also implemented new digital capabilities like chatbots, VR, myDHLi, data analytics platform to improve employee training.
Food Logistics: Please provide an update on tariffs? How will the new administration impact tariffs and other taxes going into 2021 and beyond?
Alebrand: It is a bit too early to tell as the new trade policies are just starting to be developed with the new administration intensely focused on policies that strengthen the American worker and manufacturing at home. The first signals do not suggest a quick change with China, but it can be expected that the traditional stronger ties with Europe will be in focus, though negotiation of a full-fledged free trade agreement (FTA) faces continuing challenges.
Food Logistics: What kinds of cold food perishables have you seen an increase or decrease in import/export? What do you attribute this to?
Alebrand: Perishable and frozen products are steadily increasing even when other dry cargoes have decreased. That is generally linked to the steady growth in global population and increase in wealth allowing people around the globe to enjoy products from far away. Proteins, fruits and vegetables are steadily on the rise in part due to the pandemic "stay-at-home" lifestyle.
Food Logistics: What are some things not addressed above that may be pertinent to our readers?
Alebrand: Everything we do at Deutsche Post DHL serves one purpose -- connecting people and improving lives. This commitment guides our efforts and sense of responsibility, underscores our values, focuses our mission and creates long-term value. Fulfilling our purpose requires us to make every dimension of our business sustainable.
As the world's leading logistics company, we also have a tremendous responsibility to set an example in our industry and be a sustainability leader. Over the years, we have repeatedly redefined logistics, from introducing the industry's first green product to becoming the first logistics company to commit to a zero-emissions target. While leading the way, we have introduced innovative green logistics solutions to make supply chains more sustainable and help our customers achieve their environmental goals. Now we are making sustainability a cornerstone of our Strategy 2025 – Delivering Excellence in a Digital World – and an essential element of our mission – Excellence. Simply Delivered.
We just launched our new Sustainability Roadmap investments and goals with regard to the environment, social issues and corporate governance. The new initiatives include:
• Planned investments of more than $8 billion in clean operations; and
• Commitment to contribute 1% of net profit each year to create lasting impact for the people and the communities where we operate.
The new Sustainability Roadmap will accelerate the company's planned decarbonization through interim environmental science-based targets and set targets and measures for social responsibility and governance.