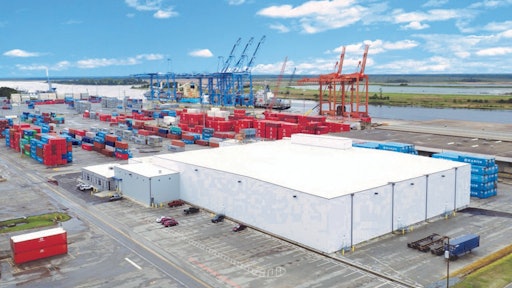 Blueberry lovers in the Southeast U.S. used to wait while the fruit took a round-about trip from Peru, Uruguay or Argentina to reach their local market. It had to first be shipped to specialized cold-treatment facilities in the Northeast U.S. to be cleared for distribution.
It's known that many agricultural pests and diseases exist worldwide that could be introduced into the United States through commodities such as meats, animals, animal products, fruits, vegetables, plants, soil, seeds and plant-based handicrafts, among others. Because of these risks, the U.S. Department of Agriculture's (USDA) Animal and Plant Health Inspection Service (APHIS) regulates the entry of certain foreign agricultural products into the United States.
To help reduce that risk, perishables were required to be chilled to a certain temperature to fulfill USDA's APHIS quarantine requirements for fruits and vegetables entering the country. Only then could the produce be shipped to stores in southern states.
Now, the USDA's Southeast In-Transit Cold Treatment Pilot program allows entry of in-transit, cold-treated containers of agricultural products from South America, expediting blueberries, citrus and grapes from Peru; blueberries and grapes from Uruguay; and apples, blueberries and pears from Argentina to grocers' shelves.
In its USDA Fresh Fruits and Vegetables Manual, the agency states: "The articles from the countries of origin listed in this manual are regulated because just one destructive pest might be enough to start a pest outbreak that can cause millions of dollars of damage to crops, trees, flowers or lawns. By their destructiveness, pests can increase the price and reduce the quality of food, lower property values and ruin recreational areas. The extinction of just one plant species does away with the aesthetic, ecological, educational, historical, recreational, commercial and scientific value of our world."
Just one pest, the fruit fly, can wreak havoc if it slips through. According to APHIS, "Fruit flies in the family Tephritidae are among the most destructive, feared and well-publicized pests of fruits and vegetables around the world." Tephritid fruit flies spend their larval stages feeding and growing in more than 400 host plants. Introduction of these pest species into the United States causes economic losses from destruction and spoiling of host commodities by larvae, costs associated with implementing control measures, and loss of market share due to restrictions on shipment of host commodities. The extensive damage and wide host range of tephritid fruit flies become obstacles to agricultural diversification and trade when pest fruit fly species become established in these areas."
Swatting the Pests
The two-phase USDA pilot enables a limited number of containerized cargoes to enter the port directly after completing a two-week cold treatment process as a safeguard against fruit flies and other pests, as well as acquiring all the required unloading clearances prior to the shipment's arrival at the U.S. port.
During Phase 1 (instituted in 2013), fruits are chilled between 15 and 17 days at a specified temperature to protect against pests. The process begins in fruit-exporting countries in Central and South America. The refrigerated cargo can then only be discharged from a South Atlantic terminal upon completion of its treatment schedule. During Phase 2, the port acquires the ability to allow importers with refrigerated cargo to finish the treatment schedule on terminal before being discharged.
On Dec. 1, 2017, North Carolina's Port of Wilmington became the first South Atlantic port to implement Phase 2 of the pilot program, allowing more direct imports of produce from across the Americas.
"Phase 2 opens up a totally new dimension for our port and an option for importers to complete treatment after discharge, which is unique in the South/Mid-Atlantic, and only available at the Port of Wilmington at this time," explains Hans Bean, vice president of trade and development at North Carolina Ports.
The Port of Wilmington has almost 300 plugs on terminal and the capacity to add more. In addition to its reefer capacity, the port also is home to a 101,000-square-foot on-terminal refrigerated warehouse, one of only a few in-port cold storage facilities in the country.
In 2016, the Port of Wilmington became the home to North Carolina's first, and only, in-port cold-storage facility. The Port of Wilmington Cold Storage (PWCS) maintains specific temperatures for the storage of perishable goods, such as fruits, vegetables and proteins, as well as some pharmaceuticals and florals. The Port of Wilmington is a major hub for exporting refrigerated and frozen pork and poultry products, but prior to PWCS, it didn't have a cold storage facility within its gates.
Agriculture is an $84 billion industry for North Carolina, Chuck McCarthy, president and CEO of PWCS, said at the opening. "And the demand for U.S. meats and vegetables abroad is very high, particularly in Asia. We anticipate that PWCS is going to allow North Carolina producers and processors to significantly grow their expert business by providing them with a more cost-effective alternative to trucking their products to out of state ports. We also hope that local growers who may have thought export was out of their reach will consider working with us to grow their markets overseas."
North Carolina also becomes more competitive with neighboring states, said an official of the state Department of Agriculture. "The demand for chicken overseas is particularly high and we anticipate that PWCS will allow North Carolina poultry farmers to significantly grow their export business to Asia," says Robert Hosford, assistant director, Foreign Direct Investment. "The addition of a cold storage facility this close to the water is a huge advantage for North Carolina agriculture and the food processing industry."
PWCS features almost 3 million cubic feet of freezer and cooler space and 10,600 pallet positions. It is divided into three primary areas: a convertible room that can be used for refrigerated or frozen products, a freezer room where temperatures are painted below zero degrees, and a blast freezing room where products like chicken and pork can be frozen to zero degrees within 24 hours. (USDA regulations require that meats be frozen to zero within 72 hours of slaughter.) USDA inspection is provided on-site with a dedicated office.
Other services provided include:
• USDA approved export stamping, labeling and export document preparation
• Container loading, unloading and cross-docking
• Domestic freight loading and unloading
• Computerized inventory control
• Handling, slip sheeting and case selection
• Shrink wrapping
Others in the Pilot
Another participant in USDA's pilot is the Port of New Orleans (Port NOLA), which is a boon for shippers who want to transport perishable cargo from South America.
"Participating in this pilot is a significant gain and highlights Port NOLA's ongoing commitment to developing new business," says Brandy D. Christian, Port of New Orleans president and CEO. "This program gives current and future port shippers additional options to transport refrigerated cargo, while reducing transit time from origin to the consumer."
Port NOLA has more than 900 refrigerated plugs available to handle additional perishable cargo. Virginia Port Authority CEO and Executive Director John F. Reinhart says there are many beneficiaries of the change. "Shippers will see lower transportation costs and a longer shelf life for their products," he says, adding: "Consumers will see lower prices at the store; and there will be environmental benefits from reduced emissions related transportation.
"This designation is important for logistics and supply chain managers importing agricultural products because it means shorter total transit times from origin to market," Reinhart explains. "This helps to diversify our cargo mix. It opens the door for new cargo and provides an important service for owners and shippers of perishables. This helps to support our strategic growth plan and further establishes the Port of Virginia as a global gateway."
Containers that don't pass cold treatment won't be allowed to enter the port and can't be offloaded from vessels. Instead, they'll either be shipped to a Northeastern port for re-treatment or will be returned to the country of origin.
Additional ports in the program include Savannah, Georgia and Florida's Port Tampa, Port Manatee, Port Miami and Jacksonville (JAXPORT).
Barry Hochfelder is a freelance journalist who has covered a variety of industries in his career, including supply chain. He also served as the former editor of Supply and Demand Chain Executive. Hochfelder is based in Arlington Heights, Illinois.