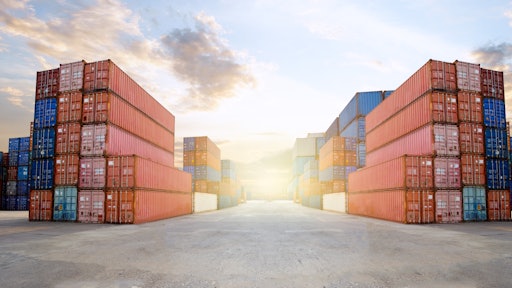 TMLsPhotoG/stock.adobe.com
While the prices of containers skyrocketed last year due to logjams and supply chain disruptions, the opposite is true today. According to Container xChange, a different type of challenge takes hold in the United Sates, as empty containers pile up as continued shutdowns in China and the Russia/Ukraine war prevents the ability to ship them back to Asia. Prices for containers dropped 30% in price throughout the last two months, with a few even decreased by half, with greater price slips coming. Additionally, contract negotiations in the USWC and USEC logjams will hurt the coming peak season.
Per Container xChange:
The average container prices for 40 ft HC containers at the port of LA dropped by 20% since late February from $3467 to $2754 in April. These prices are expected to further decrease in the coming few weeks according to the xChange trading insights tool. Similarly, the average price for 20 ft DC at the port of Los Angeles is $1661 as of April 11, 2022. These were much higher in the year 2021, peaking at $3080 towards the end of August 2021. Almost halved since the last year.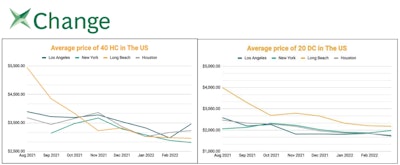 "We know that the port labor unions are very aggressive negotiators, and the event has historically also resulted in work stoppages in the past," says " says Christian Roeloffs, cofounder and CEO, Container xChange. "If that happens this year too, it will cause unloading and loading of cargo practically impossible. I am doubtful whether the negotiations are done within one and a half months because that's effectively the time that we have before the current contract ends at the beginning of July. And it's just doubtful whether the port and terminal unions will find an agreement with the employers by that time. This will of course lead to disruptions at the beginning of the early peak season shipping, a crucial time for the shipping industry, set to have implications on consumer demand fulfilment."