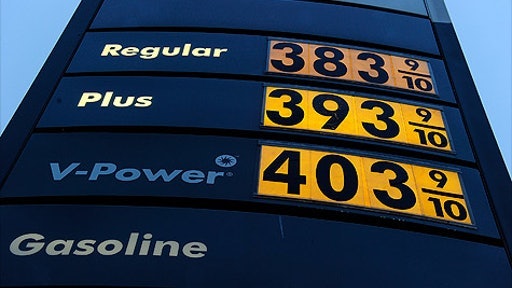 Getty Images
Last mile is already the most expensive and complicated part of the supply chain for food retailers, accounting for about 40%-50% of the entire supply chain cost. Throw rising gas prices into the mix and you have the potential for a supply chain disaster of "pandemic" proportions. Food retailers that understand the logistical challenges on the horizon can mitigate risk in our uncertain economic environment.
Gas prices rise as last-mile delivery continues to grow
Record-high inflation and a war raging in Ukraine contribute to today's high gas prices. The cost to fuel the last mile will continue to rise due to seasonal increases in demand and summer blend gas prices. According to NACS, since 2000, gas prices have increased about 50 cents from the seasonal low at the beginning of February to the seasonal high in mid-May.
As we move into spring with COVID-19 restrictions lifted across most of the United States, consumers gain confidence as they begin to travel and re-enter restaurants and stores, some for the first time in two years. But that doesn't mean last-mile delivery is on the way out. The Global Last Mile Delivery Market size in terms of revenue was worth $108.10 billion in 2020 and is expected to reach $200.42 billion in 2027, growing at a CAGR of 9.29% from 2021 to 2027. As last-mile delivery continues to grow amid rising fuel costs, the question remains—who will take on the pain at the pump?
Retailers vs. consumers: Who will eat the cost?
Will retailers that have their own fleets eat the added fuel cost for consumer delivery or will we see service fees go up? If retail giants are any indicator, consumers are likely to feel the pain.
Membership fees for some online grocery retailers cite "the rise in wages and transportation costs" as a factor.
As of mid-March, independent delivery driver have all followed suit, announcing temporary fuel surcharges for their services amid skyrocketing gas prices. Depending on the company and service, consumers will take on a $.35-.55 fee per order that goes directly to delivery drivers in order to mitigate the rapid rise in gas prices.
But is this trend toward fees directed at consumers the best choice for business? According to NACS, delivery fees are one of the Top 2 factors that impact shopping decisions. In fact, the cost of delivery is approximately twice as important to the purchase decision as the actual cost of the purchase. This means that retailers may want to consider raising the price of products purchased through last-mile delivery instead of introducing an additional or increased delivery fee to cover fuel surcharges.
Last-mile delivery drivers: How will they fare?
While many food delivery services are implementing fuel surcharges for drivers, others are introducing new programs such as gas rewards and bonuses and increased driver pay. But will these actions be sufficient to maintain enough drivers to meet demand?
Yet 90% of drivers surveyed with Coworker.org said that the new per-trip fuel surcharges introduced by some of the delivery companies are not sufficient to help with gas prices.
Other drivers plan to only work during "surge" hours, according to the New York Post. Surge hours are peak windows of time with higher demand, leading to increased payouts vs. normal hours that are no longer worth the price of gas.
How to mitigate risks for last-mile delivery
So what is the solution for last-mile food retailers? They are already dealing with the most expensive and complicated part of the supply chain. And with rising gas prices, food retailers are juggling consumer and employee satisfaction. It is more crucial than ever before for retailers to look for ways to minimize costs and add efficiency to their last mile or same-day delivery.
Technologies leveraging real-time data and advanced analytics are a smart place to start, especially for route optimization. According to ABI Research, the cost savings from using technologies like route management software could be well over 12% in profitability and 13% in vehicle utilization, with a 15% decrease in travel time.
Route management software is a huge time-saver as it allows you to plan routes that are as efficient as possible, instantly. This means that drivers can spend less time on the road, resulting in reduced fuel usage and cost. Studies even show that optimized delivery routes can save 20-40% on fuel and drive time.
Other efficiencies include increased accuracy, faster delivery times and real-time updates, which all contribute to increased driver and customer satisfaction.
While living in uncertain times with logistical challenges looming, the best bet for food retailers is to be prepared for change and look toward technology to support business.