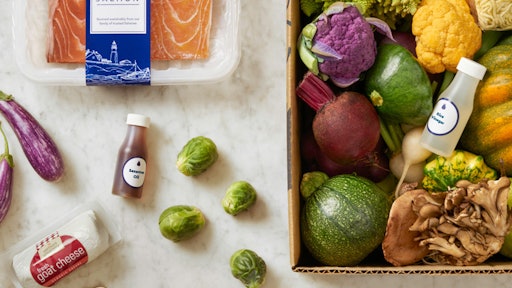 Blue Apron
Meal-kit subscription service Blue Apron continues to lose tens of thousands of customers on a quarterly basis—a trend it expects to continue as it pivots to a new service model.
Blue Apron is now focusing on getting existing customers to spend more, while recruiting more customers to the platform that are similar to its most loyal members. Late last year, the company shifted to a flexible service model, which included distribution through retailers and more choices for customers, including quick changes to plans, meals that take less time to prepare, and limited-time, specialized meal kit offerings.
The strategy also includes prioritizing outreach on customer groups with higher potential retention rates and brand affinity, said CEO Bradley Dickerson. To do so, it's linked up with outside retail partners in an effort to reduce standalone marketing costs: A partnership with Weight Watchers recruits members as Blue Apron subscribers, while Jet.com sells Blue Apron meals and meal kits. The goal is that both Jet.com and WW will offer access to customers accustomed to spending more on healthy food.
Despite the change in approach, analysts say the strategy doesn't adequately address the business model's core problem: Blue Apron is situated in an uncomfortable middle ground between restaurant delivery services and grocery stores, driving its potential customer reach to a too-narrow customer group. It's the reason why other food delivery startups have struggled to scale.
To read the full original article, please click here.