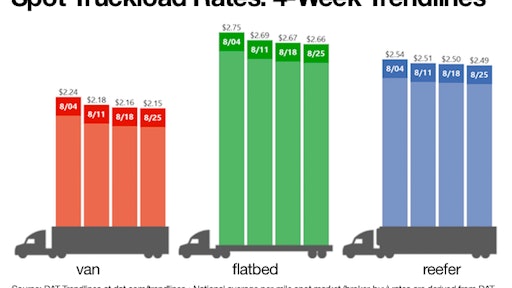 Truckers posted 5.2 percent fewer trucks during the week ending Aug. 25, which helped pump the brakes on a recent downward trend in spot truckload rates, according to DAT Solutions, which operates the DAT network of load boards.
The number of available loads increased 3.7 percent, while the national average van, flatbed and reefer rate fell 1 cent to $2.15 per mile, $2.66 per mile and $2.49 per mile, respectively.
Van Trends
The number of van load posts on DAT load boards edged up 2 percent, while truck posts dropped 6 percent, pushing the national van load-to-truck ratio up to 7.1 loads per truck.
While national van rates have slipped in August, the 100 most active van lanes on DAT load boards are showing signs of recovery. Forty-five lanes were up in pricing, 46 lanes down, and 9 were neutral.
The most notable lane among the gainers: Chicago to Allentown, Pennsylvania, rose 15 cents to $3.04/mile. One year ago that lane was in the $2.25 to $2.75 range.
It's a good example of the new-normal rate-level reset.
Van markets in Texas and the Southeast region are slipping, and nowhere has the trend been more evident than in Houston ($1.95 per mile, down 6 cents). A slowdown in energy-related freight may be part of the story; also, one year after Hurricane Harvey hit the region, much of the recovery and rebuilding is complete.
Reefer Trends
Reefer load posts on DAT load boards jumped 10 percent compared to the previous week. Truck posts fell by 5 percent, which pushed the load-to-truck ratio up to 9.6 loads per truck.
The run-up to Labor Day weekend and the new school year typically leads to a surge in demand for transportation of fresh food. This year, the back-to-school grocery fest coincides with late-summer harvests: apples, pears, onions and potatoes are rolling out of orchards and fields in the Upper Midwest, Pacific Northwest and parts of the Northeast.
Flatbed Trends
After 10 weeks of declines, the national flatbed load-to-truck ratio edged up 3 percent last week to 28.2 loads per truck. Load posts were up 1 percent, while truck posts dipped 2 percent. More lanes rose than fell last week in the top 78 flatbed lanes, and overall rates continued to slip but at a slower rate.
All four of the top-gaining flatbed lanes were from Roanoke, Virginia, an indication of activity through East Coast ports.
DAT Trendlines is generated using DAT RateView, an innovative service that provides real-time reports on prevailing spot market and contract rates, as well as historical rate and capacity trends. RateView's comprehensive database is comprised of more than $45 billion in freight bills in over 65,000 lanes. DAT load boards average 993,000 load posts per business day. For the latest spot market load availability and rate information, visit dat.com/trendlines, or join the conversation on Twitter with @LoadBoards.