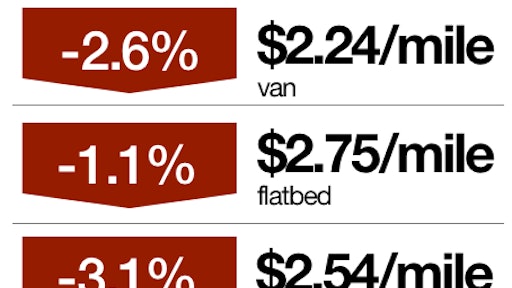 Spot truckload rates continued a seasonal decline during the week ending August 4 as the overall number of loads posted on DAT load boards fell 0.7 percent and capacity dipped 1.3 percent.
The national average van rate slipped 6 cents to $2.24/mile, the flatbed rate fell 3 cents to $2.75/mile and the refrigerated rate was 8 cents lower at $2.54/mile compared to the previous week.
The number of available van and reefer loads on the DAT network both increased, however, reflecting strength in the spot market for late July and early August, and the $2.24/mile van rate equaled the monthly average for January, which was a record at that time.
Van and reefer load-to-truck ratios also made slight gains while the flatbed ratio settled lower into a typical mid-summer pattern, albeit at an elevated level compared to previous years.
As a national average, the price of diesel was unchanged at $3.22 per gallon.
VAN OVERVIEW: The number of available van loads increased 3 percent compared to the previous week while truck posts declined 1 percent. The national van load-to-truck ratio increased slightly to 7.1, and average outbound rates held steady in several key markets:
Los Angeles: $2.80/mile, down 2 cents
Atlanta: $2.45, down 2 cents
Allentown, Pa.: $2.65/mile, down 1 cents
On a lane-by-lane basis, rates involving Buffalo showed big gains:
Chicago to Buffalo surged 33 cents to an average of $3.33/mile
Buffalo to Chicago added 15 cents to $2.00/mile
Buffalo to Charlotte gained 27 cents to $2.56/mile
REEFER OVERVIEW: The number of reefer load posts increased 3 percent last week while truck posts dropped 4 percent. The load-to-truck ratio rose to 9.4, which is above the July average of 8.8. Reefer load counts were up sharply in California, Texas, and in the Midwest, while a disappointing lemon harvest in Mexico appears to be affecting shipments coming across the border at Nogales, Arizona.
FLATBED OVERVIEW: The number of flatbed load posts was down 7 percent while truck posts increased 1 percent compared to the previous week, which caused the load-to-truck ratio to drop to 36.4. That's still a strong number: the flatbed ratio was 14.4 in July 2016 and 37 in July 2017.
DAT Trendlines is generated using DAT RateView, an innovative service that provides real-time reports on prevailing spot market and contract rates, as well as historical rate and capacity trends. RateView's comprehensive database is comprised of more than $45 billion in freight bills in over 65,000 lanes. DAT load boards average 993,000 load posts per business day.