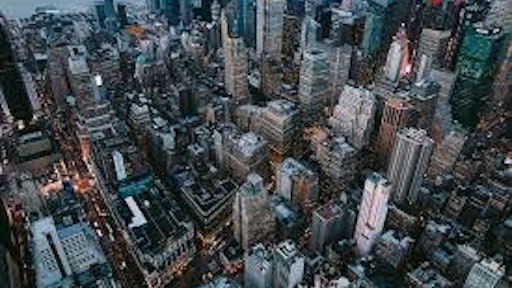 New York City has announced that it plans to invest up to $100 million in freight infrastructure. The initiative, Freight NYC, aims to shift more of the food, products and materials that are brought into the city each year by trucks to trains and ships.
Crain's reports that the city's Economoic Development Corporation will issue a request for proposal by the end of the year for a private partner to build a five-acre barge terminal on city-owned land in Hunts Point. According to Crain's, the project is estimated to cost upwards of $30 million to develop and would be used to deliver food items and produce by water to large constellation of grocery and restaurant distribution businesses in the South Bronx neighborhood.
The city also aims to create a 500,000 square foot distribution center in the Brooklyn Army Terminal in Sunset Park and build a 75,000 square foot ground-up air cargo facility near Kennedy Airport. Crain's reports that the city is hoping to provide low cost space to rail and air freight businesses while encouraging the use of those transportation modalities.
Solicitations for private partners to work on those projects will be issued within the next two weeks, Crain's reports.
Freight NYC also wants to create four small freight yards along an existing freight rail line, providing new offloading points for goods carted by trains. If that plan moves forward, it could potentially reduce the distance that trucks would need to travel to deliver cargo to its final destination, Crain's reports. The price for the small rail facilities is still unknown.
NYC has been trying to find alternative ways to deliver cargo the city for some time now. According to Crain's, 13 million trucks come into the city's five boroughs every year, bringing in about 200 million tons of goods and materials, adding pollution and greenhouse gases to the city.
With fewer trucks on the road, the city's congestion crisis is expected to ease. According to Crain's, the congestion costs NYC's economy $862 million each year. With freight volumes expected to grow, congestion costs could quickly reach $1.1 billion a year.
To read the full original article, please click here.