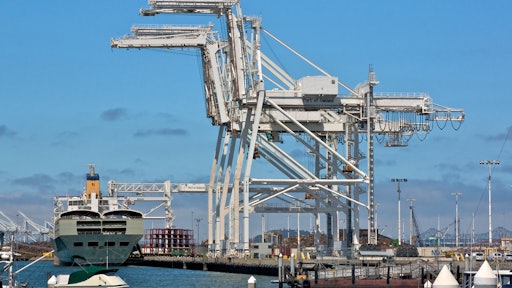 American Shipper reports that the Port of Oakland saw containerized inbound volume reach an all time high of 87,207 TEUs last month. The previous record was set at 84,835 containers.
it is predicted that the 8.7 increase occurred because importers may have ordered aggressively ahead of tariffs or that it was a strong peak season.
While the numbers set a port goal, maritime director John Driscoll wasn't surprised by the number saying that "there's uncertainty over the international trade picture, so we're taking a wait-and-see approach," American Shipper reports.
It is still too soon to see the impact of the tariff increases on cargo from China, but it would have affected $225 million of Chinese imports they had in place last year, according to American Shipper.
Even though the port saw high inbound numbers, containerized outbound volume in June was down 4.7 percent from last year and volumes in the first half of the year are down 1.8 percent.
American Shipper reports that total container volume is up 2.3 percent, however.