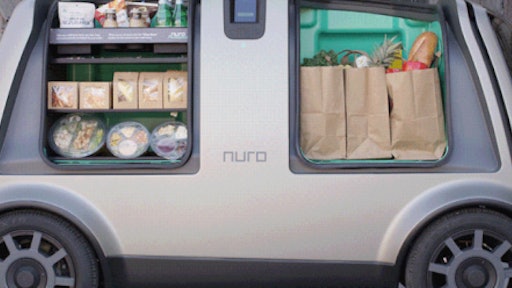 As the race for grocery delivery continues to heat up, Kroger is trying to be one step ahead of its competition.
The grocery chain announced its plans to partner with driverless car company Nuro to deliver groceries using its autonomous vehicles, CNBC reports. The partnership comes as the company continues to tackle "last mile delivery" challenges. 
Nuro is an autonomous car company built specifically for transporting cars. Its vehicles are slimmer and designed different than ones meant to carry people, according to CNBC. However, the company does not have refrigerated cars just yet. 
While it may seem like Kroger is ahead, Walmart and Amazon are still close behind. Walmart recently announced that it was partnering with Postmates to expand its online grocery delivery program and Amazon unveiled its new delivery strategy to work with entrepreneurs who run their own local delivery networks, CNBC reports. 
However, Kroger has made a series of investments to further its online presence. The chain invested in Ocado, which will use automated warehouses throughout the US, and has also bought meal kit company Home Chef. As the company invests in itself, digital sales grew 66 percent, CNBC reports. 
The Kroger and Nuro partnership is expected to begin this fall and will experiment with technology in areas that both overlap with and are separate from where it plans to build its Ocado Warehouses. 
At the start of the trial, shoppers will need to schedule windows of delivery in advance. Nuro plans on partnering with other retailers beyond Kroger, CNBC reports. The company is expecting that it will take time to build out the necessary infrastructure to support the deliveries. While it is planning for expansion, it may take several years before it spreads to the entire country.