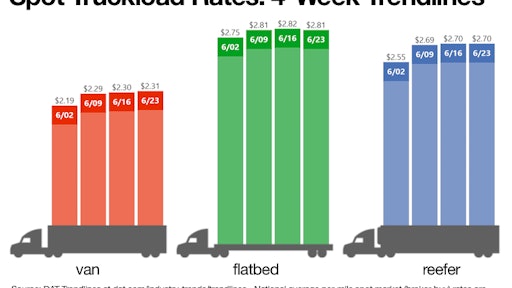 The national average spot truckload van rate on the DAT network of load boards edged up a penny to $2.31/mile during the week ending June 23, a new all-time high despite a 7 percent increase in available van capacity and 5 percent decline in the number of available loads.
The reefer rate remained at a record high of $2.70/mile and the flatbed rate dipped 1 cent to $2.81/mile.
VAN OVERVIEW: Van load posts were down 5 percent while truck posts increased 7 percent compared to the previous week. The van load-to-truck ratio fell 11 percent to 9.2 loads per truck. That's 64 percent above last year's June average of 5.6, which was the highest-ever ratio at the time.
Although freight volumes stayed about the same last week, rates moved higher on 64 of the top 100 van lanes. That could be because there are fewer alternatives for shippers: contract rates have increased about 20 percent since last June, and rail intermodal has experienced crowded terminals and lack of drayage capacity.
Los Angeles was the No. 1 market for spot van freight volume last week. Los Angeles also leads in rate per mile at $3.09. Some of the hottest lanes include:
Atlanta to Chicago, up 21 cents to $3.72/mile. The northbound lane has remained higher than the southbound Chicago to Atlanta lane for several weeks, which is very unusual.
Los Angeles to Chicago rose 25 cents to $2.03/mile. This rail-competitive lane usually moves at much lower rates, signaling that the rails are becoming saturated.
FLATBED OVERVIEW: The national load-to-truck ratio for flatbeds remains high, but it fell to its lowest point since late February, down to 77.9 loads per truck. That was due to a 10 percent decline in load posts and a 3 percent increase in truck posts. Flatbed volumes in June are 32 percent higher than they were one year ago in our top 78 flatbed lanes, and rates in those lanes are 26 percent higher than last year at this time.
REEFER TRENDS: Reefer load posts and truck posts each rose 3 percent, leading to a slight uptick in the ratio to 12.7 reefer loads per truck. Reefer volumes from Georgia and the Carolinas continue to strengthen as harvests move north of Florida. Out West, the transition from Texas to California is underway with Los Angeles still strong and the Fresno market coming into peak season.