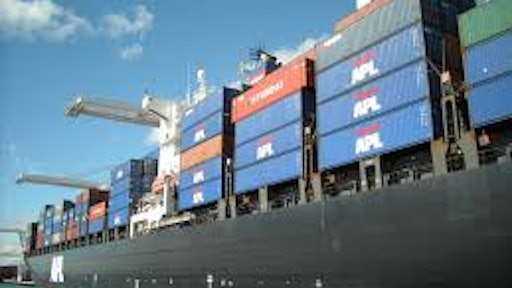 According to Loadstar, Asia-North Europe ocean carriers are aiming to hike container shipping rates by up $500 per teu starting July 1, the start of the peak season.
Carriers are adopting a "shock and awe" tactic of a FAK increase rather than gradual smaller rises. The announcements come as container spot rates fell across all major trades.
The Shanghai Containerized Freight Index (SCFI) fell 3.4 percent to 751 this last week, down more than 9 percent since last year, Loadstar reports.
As carriers postponed emergency bunker surcharges in Northern Europe, components declined 3.2 percent, according to Loadstar. However, transpacific carriers suffered the most.
Rates from Asia to the US west coast dropped 5.7 percent and east coast ports saw a 2.5 percent decline. Rates to the US west coast are now at levels that are hurting carriers serving the route, Loadstar reports.
Container lines are starting to cancel planned trips due to a dip in utilization levels. Loadstar reports that MSC announced it was terminating its New Eagle service that is operated with Maersk Line next month. The carrier is offering a contingency plan for the transfer of forward booking onto other loops to give limited disruption to shippers.
To read the full original article, please click here.