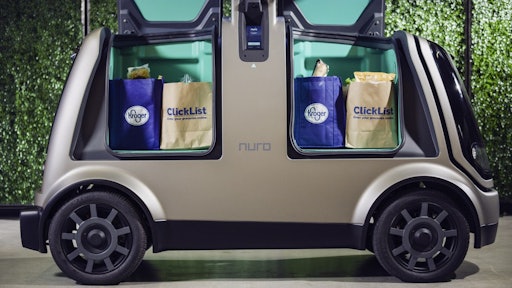 Kroger has started testing autonomous grocery delivering in Arizona. 
While only running within a mile of one of its Arizona supermarkets, the test highlights some challenges that autonomous vehicles are still facing, the Chicago Tribune reports. During a media presentation on Tuesday, one of the vehicles didn't drive as planned due to a dead battery and had to be pushed away by several people. 
By partnering with Nuro, Kroger will deliver groceries with an autonomous vehicle, called the R1, that has no steering wheel and no seats for people. The Chicago Tribune reports that the R1 will travel within a one mile radius of the Fry's Food store and can reach a speed of 25 miles per hour and will stay clear of main roads or highways. Customers can place an order on their smart device and they will receive a text message when their groceries are on their way. Another alert will be sent when the delivery is curbside. The customer will have to punch in a code to open the doors. 
The R1 will be followed by a car driven by a person that has the ability to stop or control it. The "shadow car" will be used in the early stages of the test and will be eventually phased out. 
The R1 was designed to prioritize safety of other drivers and pedestrians without trading off the safety or comfort of a driver or passengers, the Chicago Tribune reports. The vehicle's small size helps prevent collisions as there's more buffer room.