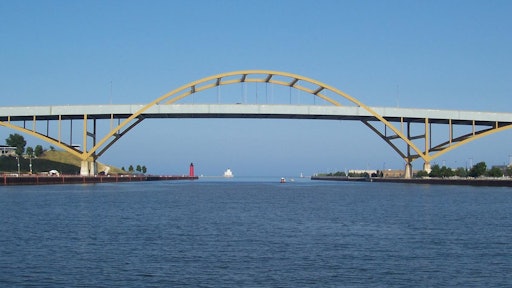 Wisconsin farmers and truckers will not have to take detours and haul half-filled loads due to a new weight restriction imposed on nearly 200 bridges across the state.
According to the La Crosse Tribune, restrictions were placed on rural roads in the western part of the state and highway engineers are attempting to account for the strain from newer trucks that use tightly-spaced axles to carry more weight in a smaller frame.
Although none of the bridges posed an immediate safety concern, the recommendation was made in the "best interest" of preserving the infrastructure. According to the Seattle Times, the State Department of Transportation has been re-evaluating bridges over the last several years to meet a 2018 Federal Highway Administration deadline.
For Shane Goplin, whose barn and fields are four miles apart, now has to make a 17-mile journey due to the bridge restrictions.
Rob Richard, senior director of governmental relations for the Wisconsin Farm Bureau tells the Seattle Times, "This is a very serious concern for us. We want to make sure farmers can get to and from their fields. If they can't make the quickest, most efficient route they're just adding wear and tear to other roads."
Gov. Scott Walker announced that 100 bridges are expected to be replaced with state funds, however, only eight of the restricted bridges are on the list.
The Seattle Times reports that transportation officials have recommended on lifting restrictions on nearly 350 bridges that were stronger than expected.