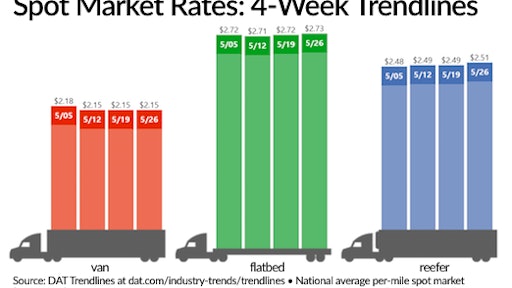 The number of spot market loads on DAT load boards increased 1.3 percent and truck posts rose 2.2 percent during the week ending May 26, although there were signs of tighter capacity ahead of the Memorial Day weekend.
The national average van rate was unchanged compared to the previous week while the reefer and flatbed rates both made gains.
Van: $2.15/mile, unchanged
Flatbed: $2.73/mile, up 1 cent
Reefer: $2.51/mile, up 2 cents
VAN OVERVIEW: Van load posts jumped 6% while truck posts increased 1 percent, which pushed the van load-to-truck ratio 5 percent higher to 7.0 loads per truck.
While the national average spot van rate held steady, there was upward movement on major lanes out of California and the Southeast and South Central regions.
Los Angeles outbound spot van freight averaged $2.67/mile, up 13 cents compared to the previous week. Los Angeles to Denver climbed 27 cents to an average of $3.25/mile.
Other hot van markets: Houston ($2.24/mile, up 7 cents); Dallas ($2.12/mile, up 7 cents); Memphis ($2.76/mile, up 9 cents); and Atlanta ($2.55/mile, up 11 cents). Two van lanes worth watching:
Houston to New Orleans, up 25 cents to $3.20/mile
Atlanta to Charlotte, up 29 cents to $3.36/mile
FLATBED OVERVIEW: The flatbed load-to-truck ratio dipped to 89.9, still historically high. The number of flatbed load posts fell 4 percent while truck posts were up 4 percent.
Flatbed rates can vary widely and last week was no exception. Key lanes:
Raleigh to Baltimore, $4.33/mile, up 57 cents
Dallas to El Paso, $2.07/mile, down 19 cents
Cleveland to Roanoke, Va., $4.25/mile, up 20 cents
Las Vegas to Los Angeles, $3.93/mile, up 77 cents.
The average flatbed rate from Las Vegas was $3.24/mile, a 41-cent increase compared to the previous week.
REEFER OVERVIEW: The number of reefer load posts was up 10 percent while truck posts rose 5 percent. As a result, the national load-to-truck ratio for reefers increased 5 percent to 9.7 loads per truck.