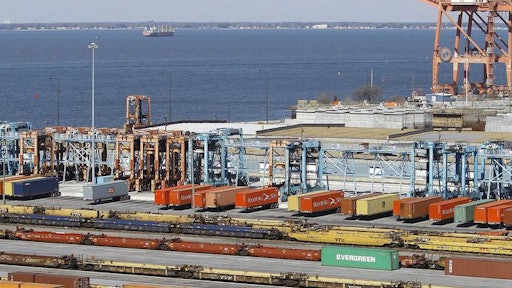 In less than six minutes at the board's last meeting of the year, the Virginia Port Authority board approved three resolutions authorizing contracts that will extend the facility's wharf and expand the rail yard and stack yard.
John Milliken, the board chairman, described them as "critically important contracts relating to the initial steps being taken for the new expansion projects which we've talked so much about and are so excited about actually having under way."
"Now we turn to the actual execution," Milliken said. "It's the beginning of a new and important phase of our effort."
The actions taken came a little less than two months after Gov. Terry McAuliffe and other top state and port officials signed a nearly 50-year lease of the Portsmouth terminal, replacing an earlier agreement signed six years ago.
The new deal provides for a roughly $320 million expansion that will nearly double the facility's capacity. The buildout is expected to take about three years.
Also on Tuesday, McAuliffe announced the finalization of a $217 million contract with Finland-based Konecranes that will bring 86 rail-mounted, automatic stacking cranes to the port. The delivery of the cranes – 60 of which will go to Norfolk International Terminals and 26 to VIG – will begin in 2018 and last until 2020.
To read more, click here.