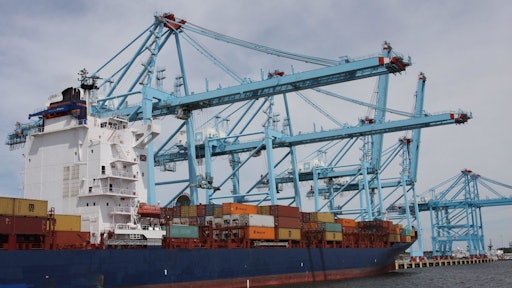 Container volume at the Port of Virginia last month edged up 2 percent from its record-breaking gain in the same month a year ago. The port's terminals moved 219,857 containers, as measured in standard 20-foot units, or TEUs, up from 215,520 units last year.
Last month was the port's eighth in a row with TEU volumes of more than 210,000 units.
"The peak-season cargo flow is steady – import TEUs were up 7 percent – and we are maintaining our consistency in delivery of service," John Reinhart, CEO and executive director of the Virginia Port Authority, said in a statement. "Our productivity across the operation continues to trend in positive territory."
Rail-container volume last month surged 16.4 percent year-over-year, while truck-container volume fell 5.7 percent. Breakbulk tonnage – noncontainerized cargo packed in or on bales, drums or pallets – dropped 15.6 percent. Export TEU volume was down 1.8 percent.
September's results followed the port's single-month record for container volume in August – the busiest month in its history.
Last month, Gov. Terry McAuliffe and top state and port officials signed off on a nearly 50-year lease of the former APM Terminals Virginia complex in Portsmouth.
The agreement also provides for a $321 million buildout of the terminal, to be funded by the owner, Virginia International Gateway Inc., reimbursed by higher rent.
Nominal rent payments for the new lease are expected to total about $4.2 billion, excluding adjustments for inflation.
The new lease is expected to take effect Nov. 1.
To read more, click here.