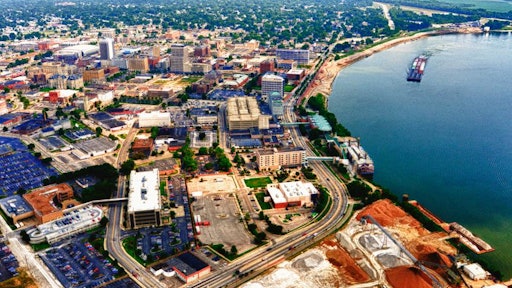 The Port of Indiana-Burns Harbor is in line to receive a $9.85 million federal grant that would help bulk up its infrastructure to handle multimodal containers that can be loaded onto ships, barges, trucks or trains.
The U.S. Department of Transportation is recommending partial federal funding for a $19.7 million expansion that also will boost the port's cargo handling capacity. The Indianapolis-based Ports of Indiana, a quasi-government agency that's run like an independent business, would fund the other half of the cost.
"Indiana has one of the premier inland ports systems in North America. This project will increase our state's ability to attract and grow multimodal business in Northwest Indiana," Indiana Gov. Eric Holcomb said. "Our Lake Michigan port provides critical access to ocean vessels, Great Lakes ships and river barges that connect Indiana companies to the world. Further investment into this port will only strengthen the tremendous economic impact it generates for our state each year."
To read the full original article, please click here.