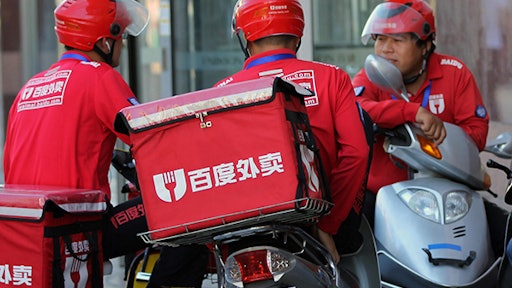 Baidu Inc. is seeking to raise as much as $500 million for its Waimai food delivery unit amid a costly battle with other Chinese internet giants for customers, according to people familiar with the matter.
The company is looking for at least $300 million and the funding round hasn't been finalized, the people said, asking not to be identified as the details are private.
Using scooters to supply everything from Starbucks coffee to sliced sashimi, Waimai is in a pitched battle with rivals to sign up delivery men and convince restaurants to join its service. Baidu is up against Ele.me, which scored a $1.25 billion investment from Alibaba Group Holding Ltd., and the Meituan-Dianping business backed by Tencent Holdings Ltd.
Baidu declined to comment on any funding plans. The company has previously strongly denied Chinese media reports that it was considering a sale or merger of Waimai and its Nuomi group buying unit.
Heavy investment in the online-to-offline, or O2O market, has driven up costs as companies pay subsidies to build out their services and win market share. The battle has already claimed victims, with Berlin-based Delivery Hero abandoning the Chinese market earlier this year.
To read more, click here.