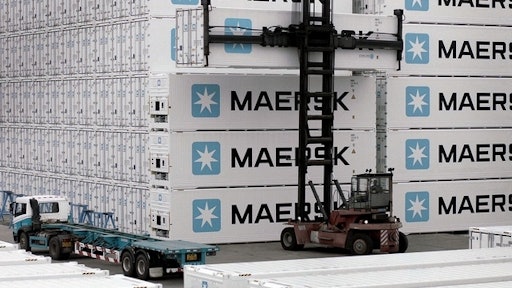 A.P. Moeller-Maersk A/S said it's still considering several options in its strategic review after a newspaper reported that the Danish conglomerate was exploring a two-way split into an energy and a transport company, according to Bloomberg. The company first announced it was considering the split in June.
"As our chairman previously has said, we want to evaluate all options," Louise Muenter, head of media and stakeholder relations at Maersk in Copenhagen, said in an e-mailed response to questions on Friday. "The structure of the group is one of many options being evaluated, but it is important to point out that it is one of many possibilities, as structure alone doesn't ensure growth."
Newspaper Berlingske reported that the most likely outcome of the review would be the formation of two separately listed companies and that a complete split-up, forming separate companies out of all of Maersk's main divisions, was now off the table.
The new "Maersk Transport" company would include the Maersk Line, APM Terminals, Maersk Tankers, Damco and Svitzer divisions, according to the newspaper. "Maersk Energy" would include Maersk Oil, Maersk Drilling and Maersk Supply Service, Berlingske said. The newspaper cited unidentified people that it said are close to the talks.
"The split-up could be positive for the energy divisions as they may get a higher degree of freedom and a board that's more in tune with developing their specific strategies," Frans Hoyer, a Maersk analyst at Jyske Bank A/S, said by phone. "But it will also be negative for the units to lose the big support they have from the conglomerate as they would no longer operate with the backing from the group's capital."
To read more, click here.
Editor's Insight: Maersk last week reported plans to halt services to 10 Chinese ports, having previously reported plans to reduce port calls to strengthen its Asia-Europe network. The company also issued a warning last week that U.S. trade policies do not fare well for global trade. Both major U.S. presidential candidates have spoken out against the Trans-Pacific Partnership (TPP), which would reduce trade barriers.
In the short term, the current low carrier rates favor shippers, making it a good time for food manufacturers to expand into oversea markets. However, a continued slowdown in global trade will make it harder for U.S. exporters to optimize export sales in the long term.
Long-term thinking is needed to protect the food industry's future, not short-sighted political considerations. Food industry trade organizations should be encouraging the government to oppose protectionist measures that will stifle exports. 8-22-16 By Elliot Maras