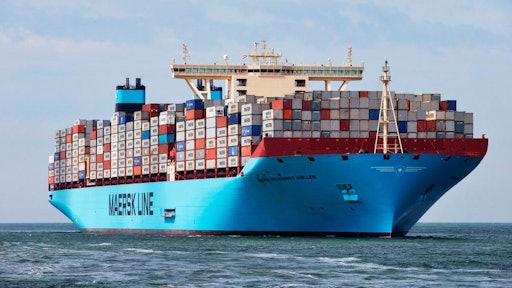 Maersk Line, the world's biggest container shipper, has decided to stop services to and from 10 ports in China as part of a drive to reduce costs, according to Reuters.
Maersk Line, a unit of Danish conglomerate A. P. Moller-Maersk, has, like other container shipping companies, been hit by historically low freight rates in the first half of this year due to a slowdown in global growth and many new, larger vessels being added to the market.
Maersk Line said it would stop serving ports in Chizhou, Luzhou, Yingkou, Jinzhou, Rizhao, Yueyang, Lijiao, Taiping, Jiaoxin and Nansha old port.
The ports are currently served by feeder vessels that move goods to larger ports where mega-vessels with capacity of up to 20,000 20-foot containers take over and transport the goods to ports mostly in Europe and the United States.
To read more, click here.
Editor's Insight: Ocean carriers face major cost pressures due to a slowdown in global growth. Food Logistics reported in April that an ocean carrier alliance including China's Cosco Group and France's CMA CGM formed to compete against Maersk Line and Mediterranean Shipping Co. in the Asia-to-Europe trade.
The current low in carrier rates favors shippers, making it a good time for food manufacturers to expand into oversea markets. 8-10-16 By Elliot Maras