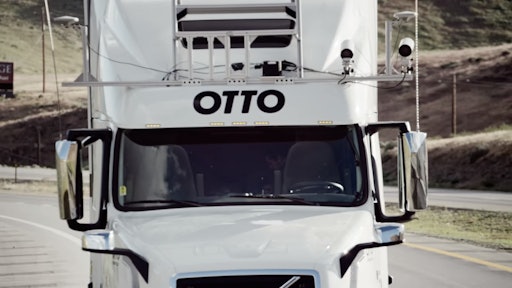 Uber Technologies Inc. said on Thursday it acquired self-driving trucks startup Otto and formed a $300 million alliance with Volvo Car Group to develop self-driving cars, according to Reuters.
Uber's moves reflect its eagerness to advance self-driving technology. If its ambitions are realized, these vehicles could over time reduce its biggest cost, paying drivers.
Uber would also be positioned to expand into the trucking industry, which had revenue of about $726.4 billion in the United States in 2015, according to trade data.
Carpooling firms have formed alliances with large automakers, such as General Motors Co. and ride-hailing service Lyft, to accelerate those efforts, which depend on software and hardware working together to give a vehicle the right reflexes in traffic.
"Partnership is crucial to our self-driving strategy because Uber has no experience making cars," Uber Chief Executive Officer Travis Kalanick wrote in a blogpost.
"To do it well is incredibly hard, as I realized on my first visit to a car manufacturing plant several years ago."
Uber, which has a research center in Pittsburgh, will by the end of this month begin a pilot program in which trusted Uber customers will be able to use their phones to summon a self-driving car for use in a downtown Pittsburgh, Pa., according to a source with knowledge of Uber's plans.
It will be the first time members of the public will be able to use self-driving vehicles. A driver trained to handle the autonomous cars will be behind the wheel to step in if needed.
The purchase of Otto, a start-up company less than a year old with fewer than 100 employees, will be for 1 percent of Uber's valuation, if certain technical targets are met, said the source.
Recently, that valuation was about $68 billion, placing the value of the deal at about $680 million. Current Otto employees would get a fifth of profits Uber earns from a self-driving trucking business, if those targets are met, the source said.
Anthony Levandowski, one of Otto's co-founders, will lead Uber's self-driving efforts in San Francisco, Palo Alto and Pittsburgh, Kalanick said on the company's website. That includes personal transportation such as ride-hailing services, as well as delivery services and trucking, Kalanick said.
Levandowski was one of four founders of Otto, each of whom worked at Alphabet Inc.'s Google and its self-driving program.
To read more, click here.