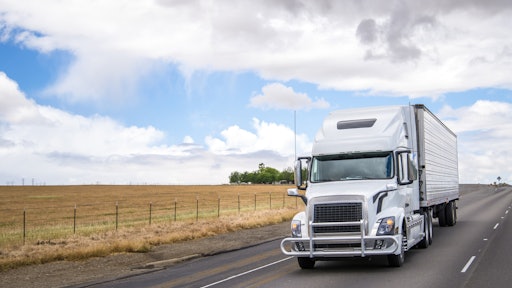 GEODIS
2020 was a challenging and tragic year for so many people and businesses, who will feel the resounding impact far beyond this moment in history. Most notably for the logistics industry, the pandemic accelerated shifts in consumer behavior toward e-commerce that forced supply chain networks to nimbly adjust in real time.
The grocery category is arguably among one of the top sectors affected by this seismic shift. While grocery stores were deemed essential businesses, many consumers tested the waters of online food shopping for the first time as health concerns took center stage. In fact, as a result of the pandemic, L.E.K. Consulting reports approximately 35% of U.S. households now rely on e-commerce to purchase groceries. L.E.K estimates the pandemic accelerated the food sector's reliance on e-commerce by a remarkable 3-5 years in just mere months.
As a result of e-commerce's explosive growth, transportation operations were dramatically reshaped to meet very dynamic market demands. Based on e-commerce learnings from 2020, let's examine the Top 3 transportation trends to look out for this year.
1. Rise in urban micro-fulfillment centers as last-mile strategy
Third-party logistics (3PL) providers drastically shifted last-mile strategies in 2020 to deliver an unprecedented amount of online goods quickly—all the while dealing with issues such as driver shortages and health concerns. With cold food chain, there is an even greater level of complexity to ensure perishable items are delivered on time and without damages or spoilage during transit. We saw a trend toward using urban micro-fulfillment centers to address challenges associated with last-mile in 2020, and this will be an area to watch this year.
LogisticsIQ estimates that by 2030, there will be one micro-fulfillment center for every 10th of the United States' total 40,000 grocery stores. As these centers provide in-store or in-home delivery options located conveniently near urban shoppers, companies can cut transportation costs and increase efficiencies of same-day orders. Micro-fulfillment centers can take the form of reconfigured areas in existing spaces or supplemental warehouses with minimal square footage to fit the urban environment.
While brands explore how to adjust current layouts best to accommodate, the 2020 trend of curbside pickup is likely to grow this year and the ongoing testing of more innovative concepts such as automated kiosks.
2. Increased automation for greater efficiencies
The use of automation in the supply chain process is not a new concept, but is one to see considerable growth in 2021. Omdia reports sales of global warehouse automation technology are predicted to skyrocket from $1.9 billion in 2016 to a staggering $22.4 billion by the end of 2021.
Within warehouse operations, we are seeing more frequent deployment of automation, including robotics, as these solutions prove effective in improving safety, efficiency and cost-competitiveness while helping to manage labor in very tight and competitive markets. We expect the progressive use of warehouse robotics to assist with inventory management and product storage (e.g., automated racking and shelving techniques) to be 2021 trends. Look for autonomous robots, for instance, increasingly responsible for transporting cold and frozen food items within micro-fulfillment centers, while humans handle trickier items like fruits and vegetables.
Specifically looking at transportation, there were exciting advancements in automation in 2020. Companies were motivated to explore autonomous delivery to not only address ongoing issues like driver shortages, but to answer the Coronavirus disease (COVID-19)-related desires such as contactless drop off. While we are sure to see encouraging testing in this area in 2021, it is likely to be another 3-4 years until we see widespread adoption, due to complex issues related to government regulations and infrastructure. However, we may see more targeted uses sooner than that in areas like yard management and regions with less congested road systems.
3. Treating real-time visibility as integral business function
2020 reinforced the fact that visibility is not just a "nice to have," but a critical component of business. With visibility core to the strategy, you can ensure your supply chain data is working together to provide the insight and foresight needed to transport products most effectively. The pandemic underscored the importance of end-to-end visibility by equipping companies, for example, with the necessary information to proactively manage transportation delays (including real-time route optimizations) and prevent them in the future.
A pre-pandemic study conducted by IBM in 2019 reported 84% of chief supply chain officers noted a lack of visibility across the supply chain was their biggest business challenge. Fast forward to March 2020 when many grocery shelves were depleted, it became even more apparent how critical this component is. For grocers without visibility, for instance, this means risking the quality and safety of items like meat, seafood and produce. During the pandemic, we saw a trend toward nutritious foods as health concerns were top of mind for consumers. As we lean toward fresh, visibility will be even more integral to the process.
A comprehensive visibility platform is the ticket to receiving real-time access to order tracking, shipment/load status, pick-up/delivery tracking, freight claims, on-time performance and carrier metrics to get the most out of your overall capabilities. In 2021, expect to see IT developments that expand end-to-end visibility efforts even further as companies treat it as an integral business function.
What's next?
As we enter 2021, the idea of "normal life" resuming is becoming closer to a reality, as vaccines are now in distribution. However, there have been critical shifts to consumer purchasing patterns —particularly with e-commerce—that will continue shaping and reshaping our transportation operations moving forward.
While 2020 taught us many things, above all is that our industry is flexible and adaptable to the evolving needs around us. We found ways to adjust, optimize and even expand operations in the face of unimaginable challenges. While there's still uncertainty in the market today, one thing is for certain -- companies that embrace forward-thinking technology and innovative strategies across their supply chains will be best equipped to face what lies ahead.