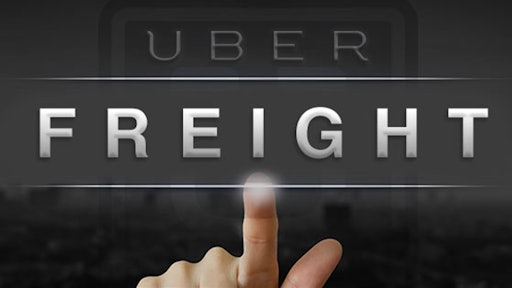 Uber Freight
When 2021 hit, the world was ready for the New Year. Even if it brought with it a New Normal -- new way of doing business, a new way to shop for groceries and more -- the turning of the calendar meant putting a year of supply chain disruptions, restaurant closures and constant pivoting behind us.
But, then, on March 23, a stranded Evergreen container ship blocked navigation in Egypt's Suez Canal, setting the stage for what would be a slew of supply chain disruptions after supply chain disruptions.
Suddenly, 2021 was quickly becoming a mirrored reflection of the year prior.
Then came the ransomware attacks, internet outages, container ships stuck at bay, bridge closures, driver shortages, ingredient shortages, natural disasters and more.
The hits just kept on hitting.
And, industry experts are already showing signs of struggle for 2022 into 2023, as routes to import/export remain clogged, ports continue to be backed up, cost of doing business increases and the labor shortage exists.
That's because supply chains are messy. And, they're only going to get worse before they get better.
In Food Logistics' Nov/Dec 2021 issue, editor-in-chief Marina Mayer talks with several industry experts about the state of the supply chain and what's in store for 2022.
Here's an interview with Joe Shone, head of enterprise product sales at Uber Freight, who details how partnering with digital carriers helps drive efficient fleets, with excerpts publishing in Food Logistics' Nov/Dec 2021 issue. [CLICK HERE to read the article in full].
Food Logistics: 2021 started off with supply chain disruption after supply chain disruption. From the Suez Canal blockage and natural disasters to ransomware attacks and an industry-wide labor shortage, the supply chain industry is having to prove its resiliency over and over again. Looking into 2022, what does the state of the supply chain look like?
Joe Shone: Supply chain volatility has been the norm since the pandemic began and is showing no signs of slowing down.
Look at consumption patterns -- retail spending remains well above pre-COVID levels, and the shift from goods to services doesn't seem to be slowing down. Despite record-high inventories, the ongoing explosion of retail sales is keeping the [inventory/sales] ratio down. It's unlikely that we'll see the I/S ratio recover to pre-COVID levels in 2022.
Port congestion is also shooting up prices. Even though imports constitute a small portion of U.S. freight, congestion has left many imported goods stuck at ports and caused retailers to settle for high prices to get their goods out before the holidays.
On the driver supply side, we are still in the midst of a massive driver shortage. The semiconductor shortage continues to constrain capital supply, and the driver market is still recovering from the pandemic. However, we have seen drivers slowly coming back into the market (especially in the long-haul sector) since some states ended their unemployment insurance (UI) programs. Spot rate growth has decelerated in those states.
At Uber Freight, we have also been monitoring the ongoing driver migration from big fleets to new authority (including owner-operators) as rates remain high.
Food Logistics: The cold food chain continues to face a host of risk/security challenges. What can companies be doing now to adapt for the future?
Shone: Navigating risk management may seem like an overwhelming task; however, taking simple steps and collaborating with suppliers and logistics providers will lead to key results. Include partners in risk management planning and work with them to develop robust SOPs that support your firm's strategy and goals. It's critical to prioritize and identify risks that could lead to the most impact. To achieve this, we must be able to share data, create smaller work teams and incentivize quality.
Shippers are aware of risks associated with their products and need to prepare should unforeseen circumstances arise. Increased demand has made it more important than ever to work with a resilient transportation partner through a digital network of vetted carriers that specialize in temperature-controlled freight. It's imperative to provide a marketplace that caters to our shippers and carriers in one place — one that will allow shippers to make real-time changes to their shipments and view real-time tracking updates to keep their customers updated throughout the load lifecycle. Future state, real-time tracking, and temperature monitoring will be must-haves for any cold chain leader.
With this higher carrier demand comes ever-changing market conditions and prices, so it's critical to provide transparent pricing solutions that can maintain a level playing field for all shippers within the cold food chain, no matter their size. Companies also need to explore new ways to reduce carrier deadhead and the amount of transit time between shipper and consignee to keep our goods fresh. Continue to invest in your supply chain program and build a diversified team that understands the dynamics of cold chain and how customer expectations continue to evolve.
Food Logistics: In terms of transportation, what are some of the trends you're seeing for 2022? How do emerging technologies like blockchain, Internet of Things, cloud-based, etc. play a role in the evolution of transportation in the cold food chain?
Shone: Predictive algorithms are playing a big role in the evolution of supply chains. At Uber Freight, we are constantly re-exploring new internal and external data sets, leveraging them for predictive models and cross-validating with our historical data. Our pricing models use machine learning to analyze data points across our entire network to come up with accurate pricing for loads almost instantaneously.
Automated procurement solutions continue to be top of mind for shippers. How can shippers get competitive but also consistent rates delivered and executed in their day-to-day tooling? These tech efforts are focused either in the RFP or real-time pricing stages and it seems like most all shippers are open to hearing out a discussion on a new way to engage with their carrier/brokers.
Food Logistics: Let's talk supply chain visibility. What is your company – or what should companies – be doing to improve their own supply chain visibility?
Shone: Partnering with digital carriers that enable a new level of visibility can help drive major efficiencies across supply chains. At Uber Freight, transparency has been at the heart of our approach since Day 1. On the carrier side, our marketplace offers up-front pricing and visibility into all necessary load information to make more informed booking decisions. On the shipper side, we provide facility insights that utilize reliable, actionable data and supply chain analytics to help companies make data-driven decisions, tailor their facility operations and improve business performance.
Food Logistics: The labor shortage is a real thing, and it's impacting several facets of the supply chain. What is your company – or what should companies – be doing to hire, onboard and retain good quality supply chain workers?
Shone: Uber Freight continues to provide solutions that address the changing needs of both shippers and carriers. We've built a marketplace that makes freight easier and more accessible, we've introduced one-touch booking at fixed rates and we've pioneered real-time pricing and capacity APIs. With technology designed to meet our customers exactly where they are, we've helped thousands of shippers and carriers transform their supply chains and strengthen their businesses to combat these trying times.
Supply chain volatility and driver shortages underscore shippers' increasing need for flexible, real-time procurement channels that can rapidly adapt to their changing needs. We've continued to introduce innovative solutions to help our shipper partners navigate — from the Uber Freight API to Market Access, we are enabling shippers to receive real-time pricing quotes and reliably source capacity.
On the supply side, we've rolled out new features like bundled cancellation protection and one-day local trip bundling. These help drivers be more efficient with their route planning and time spent on the road, reduce deadhead miles and maximize earnings opportunities.
Yes, the labor shortage is real. But, there's also never been a better time to start your own trucking business. Wages are at record-highs, drivers have the freedom to create their own schedules and new tech (like Uber Freight's marketplace) is leveling the playing field so entrepreneurial truckers can be successful right out of the gate.
Carriers are gaining new authority (either by leaving their large fleet jobs or starting their own business) in record numbers. In fact, Uber Freight has seen +300% year-over-year truck drivers taking advantage of this hot market.
Food Logistics: What are some things not addressed above that may be pertinent to our readers?
Shone: From demand imbalances to continued impacts from the COVID-19 pandemic, it's more important than ever for shippers and carriers to embrace new technologies to keep their businesses moving forward.
At Uber Freight, we've remained committed to digital transformation, positioning the logistics industry to embrace procurement solutions that provide accessibility, transparency and flexibility. Most recently, Uber Freight has raised the industry's bar by expanding into the less-than-truckload (LTL) market, providing shippers with a one-stop-shop solution for their full truckload and LTL needs. We also launched a self-service bulk load tool for shippers, and introduced new bundled load protections to give carriers peace of mind and maximized time on the road.
In addition to meeting shippers and carriers' technology demands, Uber Freight has taken engagement one step further to keep businesses informed about current market trends. We publish market insights reports to help industry players understand how the market has evolved and provide insights into the future of freight procurement.
[CLICK HERE to read the article in full].