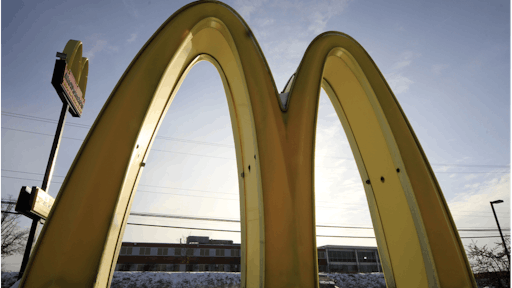 McDonald's Corp. and Tyson Foods Inc. severed ties with a Tennessee poultry farm after an animal-rights group on Thursday released video footage from the facility that showed chickens being stabbed, clubbed and crushed to death, according to NBC News.
The videotape, which was unveiled by Mercy For Animals at a news conference in Los Angeles, depicts gruesome animal cruelty toward the birds at what the group said was T&S Farm in Dukedom, Tenn., which was under contract to Tyson Foods.
Tyson supplies chicken to McDonald's, the world's biggest fast-food chain, for its McNuggets.
Representatives for T&S Farm could not be reached for comment.
"Animal well-being is a priority at our company and we will not tolerate the unacceptable animal treatment shown in this video," Tyson spokesman Worth Sparkman said. "Members of our animal well-being team are investigating; however, based on what we currently know, we are terminating the farmer's contract to grow chickens for us."
For more click here.
Editors Insight: This video is hard to watch. The ramifications on McDonald's, Tyson and the meat industry could be far reaching.
Animal cruelty is not new. What's new is activists' ability to video the way animals are abused and present it on the Internet for all to see.
The emergence of undercover video as a tool to promote change is making it impossible for food companies to escape responsibility for animal cruelty. This newly-posted video does not exist in a vacuum; viewers are immediately directed to other videos of animal cruelty.
The growing awareness of how animals are treated contributes to the vegan market and to the rising demand for locally-sourced food. 8-28-15 By Elliot Maras